As we settle into mid-2020, some things are becoming clear: we're not getting out of this thing anytime soon; the toilet paper shortage may not go away; and you'd better just decide that you love social media marketing, because when people are spending more time at home, it's the place to be.
And when you're thinking about social media marketing, it's a good idea to gear your thoughts toward visual marketing. All things video are making an outsized impact in 2020, because with faces turned to screens for more of the day, your best bet for connecting is by standing out in the digital marketing noise with a compelling and maybe even fun video.
Here are some of the trending topics around visual marketing for 2020: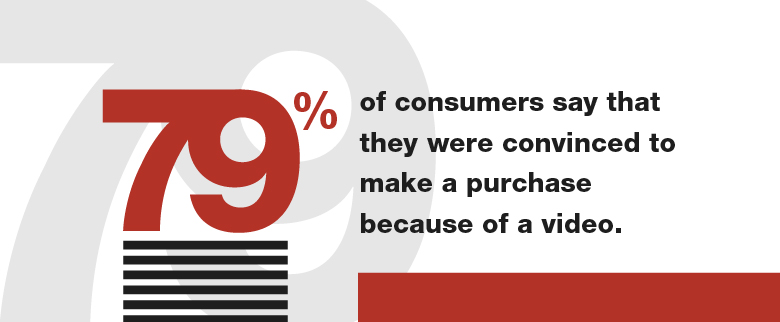 First, the Stats: Video is a way to educate and inform (The Social Science Research Network finds that 65% of people learn better through visual methods), but it's also a great way to seal the deal. Seventy-nine percent of consumers say that they were convinced to make a purchase because of a video.
Video is particularly a compelling part of the social media experience, where the line gets blurred between business and pleasure. Nearly half of the users of Instagram Stories say that they don't mind watching ads (47%). And it's effective, with 63% of brands saying that video offers their best return on investment. Graphics and visuals aren't too far behind at 56%.
Now, the Trends: Visual marketing isn't just video. Take a look at some of the most-discussed topics around engaging audiences with images, graphics and video:
Video Basics for B2B: Getting started with B2B video marketing is easy, but there are a couple of things to keep in mind. First, plan before you start. You need to know what your goals are for your video, whether you hope to capture the attention of those doing early research for a purchase, or if you're trying to help buyers make a final decision.
It's also important to keep your video short. It should be under two minutes to keep your audiences' attention. Finally, keep in mind that videos should always be mobile-friendly. While you may picture your buyers at a desk, they're more likely watching your video while they're waiting in line at the post office.
Investing in Your First Impression: Everyone's got a nifty camera on their phone, so anybody can snap a selfie for a passable head shot, right? You might be surprised that investing in a professional head shot offers a lot of benefits:
A photographer knows how to capture the right look and feel for your brand messaging.
When potential customers "meet" you over social media or by perusing your website, you'll make a great first impression every time.
Imagine getting to wear your favorite outfit, with your best hair day, every time you meet someone. A professional photographer offers your best version of yourself in a head shot.
A Landing Page That Lands Sales: If your social media post or a paid ad gets a lot of clicks, but then you mysteriously lose leads, it may be your landing page. There are a lot of things that can go wrong:
Too much clutter, without a clear indication of what you want your visitor to do next.
A business-y look that lacks engaging, fun graphics.
An opt-in form that demands a ridiculous amount of information.
You have too many CTAs, or none at all.
It's not optimized for mobile (seriously? It's 2020 … c'mon!).
A Website that Works … for You: Websites aren't just a place to show off your company history or even display your products. Website design has gotten a whole lot smarter, and many growing brands can trace their success to a website that's not just a source of information, but also a workhorse delivering growth.
Websites should be optimized for search engines, so that your rankings improve on Google and other engines. They need content that guides visitors to the next stage of the buy cycle. They need smart design that loads quickly and engages audiences with your brand message.
Website design requires serious technical skills, but it also demands an understanding of visual marketing. Custom websites offer a look and feel that allow anyone who drops in to immediately recognize it as uniquely yours, even if your logo is nowhere in sight.
Visual Marketing in the 2020 We Didn't Expect: As these trends were shaping up around visual marketing, the sudden and pressing need for visual marketing makes these trends appear prescient. It's time to talk about how to do visual marketing well in the reality of 2020.

Have Some Fun: Yes, fun. You're not the only one who groans every time another commercial comes on with soft, sentimental music. As consumers get weary of being comforted; they're ready for something else. They've heard "we're in this together" countless times by now, but there's clear evidence on every front that COVID-19 didn't erase all the divides or make everyone instant friends.
Where people can connect is with humor. Take a video of a silly stunt or document a business mishap that's unique to the pandemic. Now that the initial panic has passed and people are realizing that we're not filming a Coke commercial, they need real ways to connect. Humor will do it.
Prioritizing Authenticity: Authenticity is hard to capture in a definition, but people know it when they see it. It's simply being real. They want to hear that you're here to help them, that you're ready to work through problems with them, but not in a pandering way. Give them real solutions to the problems and challenges they have.
At SJC Marketing, we want you to know that we're here to help you get your visual marketing tuned exactly to the moment. Contact us to capture the latest trends with a touch of humor and a heap of authenticity.