Social media makes perfect sense for B2C marketing, because it's consumers who are spending their time there, connecting with friends and whiling away the hours between work and sleep. Well, it shouldn't come as a surprise to you that many of those consumers are also members of your target market, the very people that your B2B marketing strategy is trying to reach.
It's Where the Cool Kids Hang Out. While your natural tendency may be to keep B2B discussions in their own realm, this is not the way growth happens. It's important to remember that companies are made up of individual decision-makers who are also consumers, and those consumers are spending time on social media. In fact, Forbes reports that 83% of executives include social media in their consideration of a vendor before making a purchase and 92% of that same segment said that in the past year, social media had influenced a purchasing decision.
It's Not Just Decision-Makers. Executives making decisions about purchases aren't the only ones you should be paying attention to on social media. Your competitors are spending time there. 82% of B2B marketers say that social media is the channel their strategies utilize most.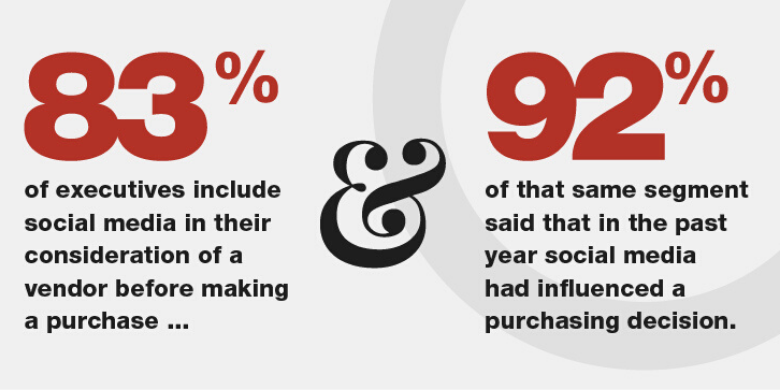 The Benefits of B2B Marketing on Social Media
Knowing others are spending time on social media and investing marketing dollars may not be quite enough to make you pivot your entire marketing strategy. So, what benefits can you expect to see when you engage on social media?
It's All About Connection. Sales and marketing are always social because humans are social beings. Whether you're meeting for lunch with a lead or engaging in an online conversation about an intriguing article you posted, it's all about connection points. Social media is simply the online equivalent of a cold call, a business lunch or grabbing coffee with a lead.
There are differences, of course. You will connect a bit differently on social media and at different levels than you might in person, but you can also reach bigger groups of leads at once, something that's harder to do in person.
Educate and Inform. Social media gives you the opportunity to be the smartest guy or gal in the room without the awkward silence that often follows these kinds of smug interactions in person. ("Actually…") On social media, B2B marketing gets a boost from your technical expertise as you post content that informs, clarifies or instructs.
The key to doing this well is keeping the needs and wants of the customer at the center of your content strategy. It's not an opportunity to trumpet the benefits of your product or service. In fact, nothing will make your social media strategy tank quite so quickly as making a commercial of your content.
Create or share pieces that answer questions, solve a common problem or demonstrate insights into your industry. You'll look smart and begin to establish a reputation for being the go-to in your field.
Give Your SEO a Lift. Any traffic arriving at your website via social media is considered to be inbound, which helps your search rankings. When a purchaser does a Google search for a product or service and your link pops up at the top of their results, they will think, "Hey, that's the company that's always posting great information on LinkedIn. I'll call them first." If this sounds far-fetched, consider this: 94% of buyers say that this kind of search is an important step in their buying process. You may think it's corny, but far-fetched? Nope.
Getting Started With Social Media B2B Marketing
Before you create business profiles on LinkedIn, Facebook and Instagram, here are a few things you should include in your strategy:
Invest time in your B2B marketing specifically for social media.
Create specific goals: are you trying to increase engagement, traffic to your website or raise brand awareness, and how will you know whether it is working?
Spend some time "listening" on social media to get familiar with conversations around your industry and brand.
Determine which channels best fit your product and industry, and get comfortable with the fact that not all channels will be right for your strategy.
Your Facebook B2B Marketing Strategy: If you determine that Facebook is a good platform for your industry, create a company page that allows you to post blogs and other content as well as press releases. Beyond regular posts, it's a good idea to invest in paid advertising. You can also boost engagement with your brand by posting polls and contests.
Your LinkedIn B2B Marketing Strategy: Like Facebook, you can use LinkedIn to publish content, but you can take it further by publishing on the LinkedIn Pulse network. When publishing, be sure to include things that fit your narrow brand identity, your values and the goals you are trying to meet through social media marketing. For more connections, consider joining Discussion Groups related to your industry.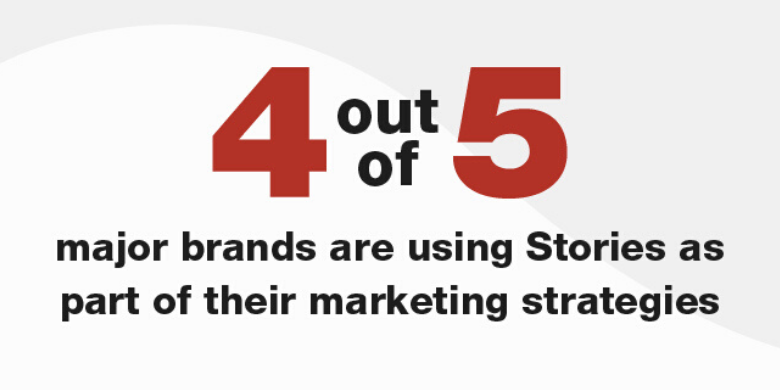 Your Instagram B2B Marketing Strategy: If you think Instagram is only for consumer brands, think again. Four out of five major brands are using Stories as part of their marketing strategies. When utilizing this platform, you're always thinking visually. Whether it's encouraging contacts to post pictures of themselves using your product or service or creating a Story around an unboxing of a new product, there are many ways to use this platform for your B2B marketing strategy.
Are you thinking about branching out in your B2B marketing plans to include social media? If you're not sure how to get rolling with Facebook, or you keep logging in to LinkedIn, only to log back out without actually posting, contact us at SJC Marketing. We offer comprehensive social media management, as well as simple guidance for those who just need a jump start.