For many people, pets are an important part of their family. And we treat them like family. Even having celebrations for them, like birthday parties and gotcha days. One local business helps make those celebrations a little more special.
Cupcakes & Pupcakes makes sweet treats for both dogs and humans. The owners say they have always loved baking and creating art. "We show our love for people by providing them with deliciousness, why wouldn't we do the same for the furry loves of lives?!"
The pet industry is booming. Almost two in three households in America own a pet and spend money on their furry companions. Owners are spending money on more than just kibble for their pets. They are buying clothes for their pampered pooch, toys and extra treats, so why not a birthday cake?
You can order your furry friend a personalized cake and then pupcakes for her canine companions. They come in doggy friendly flavors like peanut butter & coconut with carob truffles and apple cake with yogurt frosting.
If you want to treat your four-legged companion to a pupcake you can message your order on Facebook. All animal lovers want to celebrate their best friend.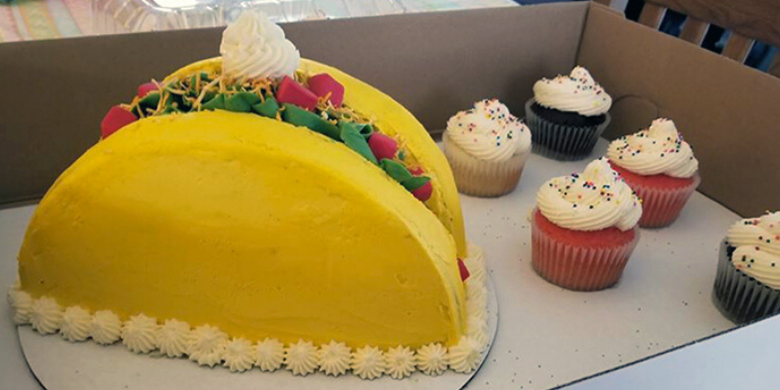 Cupcakes & Pupcakes can also help you celebrate your human friends and family. Their Facebook page shows a variety of amazing creations the baker can make for a special day. Anywhere from a cake in the shape of a taco to bacon flavored cupcakes. There are raving reviews about how delicious the creations are and how easy it was to work with the owner.
Account manager, Jessica Stewart said, " Speaking from experience, it was easy to order from Cupcakes & Pupcakes. Brooke Klamert was so friendly. She didn't think I was crazy when I said I was throwing a Quinceañera for my 15 year-old-dog and wanted a fiesta themed cake. My dog tried to eat the cake in one bite (yes, one bite) and the other dogs loved their treats too. It was a wonderful addition to our celebration and a fun time before our shelter at home order came."  During this time Cucakes & Pupcakes is still taking orders for special dog treats.