Your marketing strategy is built around a solid understanding of your brand and the story you want to tell. It's consistent, it's full of your personality and it's incredibly effective.
Until it's not. Whether it's a devastating flood that makes a lighthearted message ring out like you don't care in your local area, or a social media post that is no longer accurate because of changes in the community, there are plenty of ways that your messaging may need to shift quickly.
Take the recent events on everyone's minds surrounding COVID-19. Marketing specialists scrambled to pull advertising that might seem flippant or unsympathetic to those suffering or afraid. Suddenly, only toilet paper humor seemed safe, which demands a call to your mom to force her to admit that bathroom humor is suddenly very appropriate.
It's a lesson that COVID-19 has placed in stark relief in 2020, but whether it's a tornado, a series of floods or devastating global events, your marketing strategy and your messaging need a measure of fluidity so that you can pivot for new circumstances. Here are a few ways you can adjust: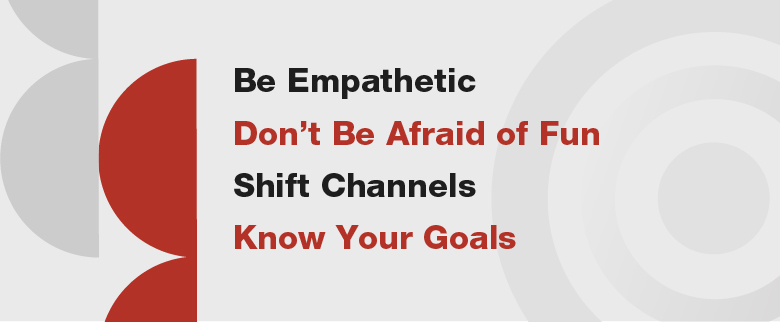 Be Empathetic. And yet, don't lay it on too thick. Your audience wants to know that you see them and you're supporting them, but you don't want to just toss another ad into the pile of commercials featuring soft music and "we're here for you" messaging. Find a way to stand out by highlighting relief efforts or showing clips of people getting creative in reduced circumstances. You could do something bordering on really crazy and highlight something you admire your competitor doing to help others.
Don't Be Afraid of Fun. This is a great time to lighten the mood in an appropriate way, maybe with a silly challenge to a competing brand that involves some ridiculous use of your product. For instance, if you are a local bakery, you could challenge a competitor to making pastries incorporating unusual ingredients or baking bread that looks like a celebrity's face.  Maybe you invite people to participate in an Instagram contest, in which they submit photos of themselves pitching in to help the community.
Shift Channels. While the cancellation of live events has been a stark reality of 2020, there are plenty of events that demand an examination of your distribution strategy for marketing. Even if you are simply sailing along, using the same combination of channels, you need to measure whether it's an effective strategy.
The shift to at-home and online has created new focus on social media marketing and digital marketing in general. With all of the added noise, how can you stand out in a crowded online marketplace?
Know Your Goals. This is bringing up the rear on this list, because there are times when it's important to balance the practical with the emotional. Your ultimate goal is probably to stay in business and hope to grow, but you may also have some additional goals, such as building community camaraderie or solidifying trust in your brand during a crisis.
Don't stop at simply having a fuzzy idea that you'd like to foster goodwill. Think about how you'll measure the success of these goals. You might pour a lot of resources into a social media focus on encouraging service to the community, but how will you know whether it was accomplished? Think through these items before you completely shift your marketing strategy during unusual circumstances.

Practical Steps for Adjusting a Marketing Strategy
Get Interactive. From polls and games to shoppable posts and quizzes, your social media marketing will stand out if your audience feels invited to participate. Make it fun, and light your post up with pictures and graphics that invite attention.
You can really get creative with interactive posts on social media. For instance, if you sell something consumable, think about shipping a few customers samples. Create a live Facebook video of your customers tasting or experimenting with your samples on a videoconference. Be sure to record it so you can make a montage to post later.
Review Your SEO Strategy: Algorithms for search engine optimization (SEO) change frequently, and as you pivot your marketing strategy, you'll want some assurance that it's an effective move. Utilize SEO metrics to determine whether you're using the right keywords and if your website is optimized for appearing at the top of a search results page.
Utilize Email. Email remains a powerfully effective channel for marketing, and particularly if you've been forced to close up shop during COVID-19. An email that says "We're closed, but we're still thinking about you, our customers," can be an effective way to preserve customer loyalty.
Make the Most of Testimonials. In unusual circumstances, there can be a strong connection from one human to the next. That's why it might be effective to feature more testimonials. When people are a little distrustful of all the news and noise, they sometimes appreciate someone that looks a lot like them, saying, "I tried this, and it worked great for me."
In every set of circumstances, it's important to know where your audiences are spending time and what kinds of messages add value. It's particularly important now. Whether you need a complete change to your marketing plan, or you simply need some assistance finding just the right message, contact us at SJC Marketing.