Consumers have always been quick to let a brand know when they've seriously missed the mark. Who remembers the Peloton Christmas ad which received a scathing response that showed a dutiful wife who was also, by all appearances, a physically perfect wife, working out on a bike given to her by the perceived villain of the story — her husband? The content was shiny, brand-consistent and beautiful.
It was all wrong.
It came across as sexist, rather than a sweet story of thoughtful gift giving, and it triggered feelings of the constant pressure women are under to be perfect. In the end, it was perceived as completely inauthentic.
After pausing for just a minute to marvel at how long-ago Christmas 2019 feels right now, when every month seems to last a year, let's talk about authenticity in content marketing and why it matters so much in this moment.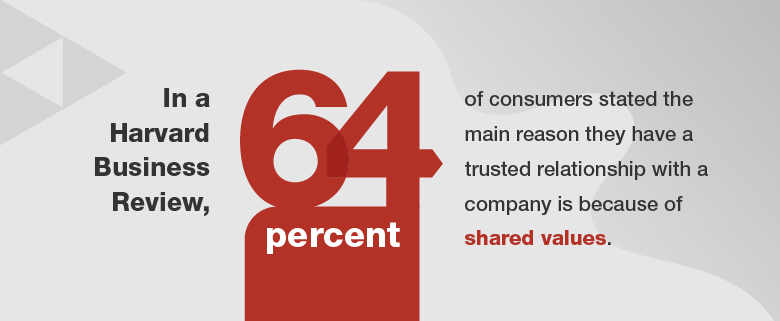 People Need Connection: Even when stay-at-home orders are no longer happening, there's a lingering awareness of how badly people need to connect with other people. Faceless corporations are less attractive to consumers if there's an alternative where they see real people engaging with them.
Build Credibility: If you tailor a message only for a specific moment, emotion or desired appearance, rather than a message that's aligned with your brand values, expect to lose credibility. You might pull it off once, but it's hard to hide inauthentic motives beneath seeming genuineness in a consistent and believable way. In a Harvard Business Review, 64% of consumers stated the main reason they have a trusted relationship with a company is because of shared values.
Build a Future: Authenticity isn't just about today. It's about messaging that's consistent over time and content that reliably adds value to audiences. Overall, authenticity delivers a host of benefits:
It helps you connect with the people most likely to be interested in your brand.
It makes your content more relatable.
It encourages your audience to join in being authentic, participate in conversations and engage in polls.

Strategies for Authentic Content
There are some steps you can take to ensure that your content is authentic.
Personalize Content: You can segment audiences according to various qualities, like age or job role, and then use it as an opportunity to tailor your content to their interests. And personalization can go both directions when you're prioritizing authenticity. For instance, post your own pictures, taken on your smartphone, rather than stock photos that may be more technically perfect but less authentic.
You can also share your opinions on a controversial topic or create a post where you ask your audience to share their thoughts on a question you introduce.
Offer Social Proof: Do you have a few customers that are particularly supportive and excited about where your brand is headed? Invite these customers to post a testimonial or a review. One of our clients, Gray Manufacturing, encourages customer reviews via social media. It's a great way to put the spotlight on your brand.
Think about combining a testimonial with video, which is a perfect format for capturing the body language and tone of voice as a customer talks about your product or service.
Sharing user-generated content is another opportunity for social proof. Invite your followers to participate in an Instagram contest that fits your brand. If your brand voice is silly and fun-loving, have followers take photos of your product in a funny setting. If you're more serious, ask for photos of a way the product helped them achieve their goals.
User-generated content is great for encouraging authenticity, because your followers are unlikely to go overboard trying to capture a certain look or pull from stock photos. They're going to be real.

Be Engaging: Content marketing isn't just about posting articles to your profile. It requires some investment in connections with your audience. Specific techniques include:
Ask questions that get a conversation going; a yes-or-no debate is a real snooze.
Create a fun Facebook poll that people really want to talk about. No, not your product or brand. Ask them to report whether their mom made them wait 30 minutes to swim after eating, or have them rank favorite television shows. You know, the important stuff.
Get involved in your industry. Join LinkedIn groups, attend webinars with influencers and invite other industry leaders into your social media or podcast orbit. You'll naturally find more to talk about while you share and post what you've learned.
Develop a reputation for responding quickly, particularly to complaints. If your audience knows that you respond in a reasonable timeframe, they'll think it's worth their time to comment on your social media post.
Recent events have made audiences particularly sensitive to any marketing that seems tone-deaf or opportunistic. The desire for authenticity is centered on a human desire for connection and the feeling that a favorite brand is an accurate representation of people just like you.
Let's build authenticity into your content marketing strategy together. Contact us at SJC Marketing for more information.