If your digital strategy isn't providing the return on investment you had anticipated, or if you're wondering whether it's worth it to keep writing a blog every week, it's a good indication that you need to spend some time on your mix between paid and organic marketing. While both are intended to drive growth for your company, they each play a distinct role in making that happen.
The Opening Act Versus the Main Event: If you've ever been to a live show, you know the purpose of the opening act. Whether it's a comedian or a hair band, you know you're being warmed up for the main event. If the main act came out too fast, you might not be as excited to see them. It clearly takes a certain amount of chanting, waiting and anticipating for you to enjoy being entertained.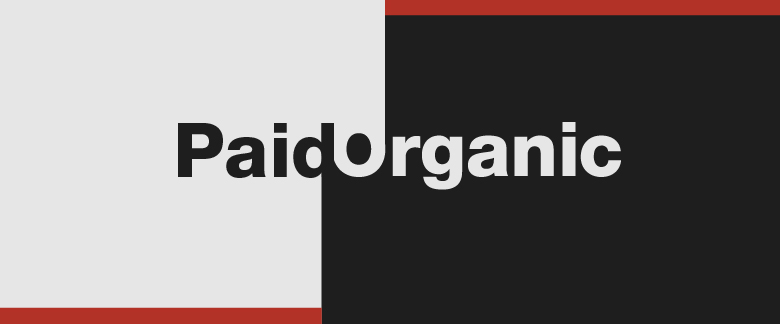 This is just one way you can think about organic and paid content marketing. Organic marketing, with all of its warm and fluffy blog posts and fun, engaging Instagram contests, is all there to introduce you to your audience and get them familiar with your messaging, your expertise, your values.
Paid advertising is where you hope to connect with audiences for a big push, the push to a conversion. Sure, you could lead with this, but it tends to be a shallow, cheap sale. When a first-time audience member engages with this type of quick decision, it's usually because they're a promotion follower who will dump you for any good deal on Groupon.
You may be tempted to pour all of your resources into the type of marketing that will get you quick sales, but you'll find that this is an "easy come, easy go" scenario with little love or loyalty in the sale. There are two main reasons why you don't rush into paid advertising and skip the effort for organic marketing:
You lose an opportunity to create an emotional connection with your customer, which is an important driver of consumer behavior and the customer experience.
You skip over the many ways in which a customer could connect with your brand. They may have spotted a paid ad, but you want their attention in the future, for other sales.
Matching Metrics to Goals: Your digital strategy should have some clear goals that are tied to your marketing efforts. You may use organic marketing to educate your audience, build brand awareness, start conversations or claim market voice. The metrics you may want to pair with these activities include:
Traffic coming to your site that originates with organic sources
Organic traffic, which measures how effective your SEO is positioned
Leads or sales that come directly from organic efforts
Formats (determining which channels and content formats deliver results)
When you use paid advertising, your goals are to close the sale and measure quantifiable results from your efforts. You need a particular return on investment, and in order to measure whether you're getting results your metrics will include:
Conversion rates
Advertisement engagement
Platform and type metrics (perhaps LinkedIn ads far outperform your paid Facebook ads, for instance)

Making the Most of Your Organic and Paid Marketing
Your digital strategy may need some rebalancing in order to achieve your goals. To make the most of each type of marketing, you need to ensure you're applying the best techniques.
Organic Marketing: The best part of organic marketing is its low cost of entry. You can start a weekly blog, produce a live Facebook video or create an eNewsletter without investing a lot of money. But it's important to remember that time is also a finite resource, so here are some ways to maximize your effectiveness with the time you have:
Show off your brand personality. Whether you're fun, serious and reliable, or laid back and relaxed, your organic marketing is where this should come through.
Focus on value. This is your time to build your reputation with your audiences until they can't imagine asking anyone else before you about a product or service.
Tailor your content to the platform you're using. Visual posts are perfect for Instagram, while B2B often shines on LinkedIn. If you're getting comfortable with live video, you'll probably favor Facebook.
Paid Marketing: Organic reach is declining, with HubSpot reporting that its downward spiral has reached an all-time low at only 2%. When it's time to grab attention and close the deal, paid advertising is ideal:
When you have a new product or service, drive traffic to your website with a paid ad.
Provide time-sensitive offers or content that is "only available" to certain audiences.
Showcase your brightest and best content.
Use retargeting to deliver a paid ad directly to audiences who have shown an interest in your brand in the past.
Lookalike audiences can allow you to connect with new audiences by uploading your customer relationship management data into a social media platform to reach similar potential buyers.
Getting the right mix of organic and paid marketing is just the beginning of a successful digital strategy. If your marketing strategy needs an update, or you're not sure where to begin, contact us at SJC Marketing.