Tucked away in a large clearing and surrounded by forest is St. Joseph's new bike trail, complete with dirt-worn hills, obstacles and some jumps for riders of all levels. The best part is it represents the effort of several enthusiastic volunteers. The second-best part? The trail is drawing in new riders to the sport and creating a stronger biking interest overall, across all ages and experience levels.
Called Ride It Like You Stole It, the bike trail opened in September of 2019 near the retired Noyes Elementary School building at 1415 N. 26th Street. It's perfectly positioned at the end of a quiet street, and the forest area around the trail connects several paths that eventually lead out to the city's paved trail system.
Like most really cool things, there's a story behind it. Local bicycle guru Randy Tracy began the trail with help from friends, but passed away before he could complete it. His friends carried on the work and gave it the unique name that was one of Randy's favorite phrases to tell fellow cyclists.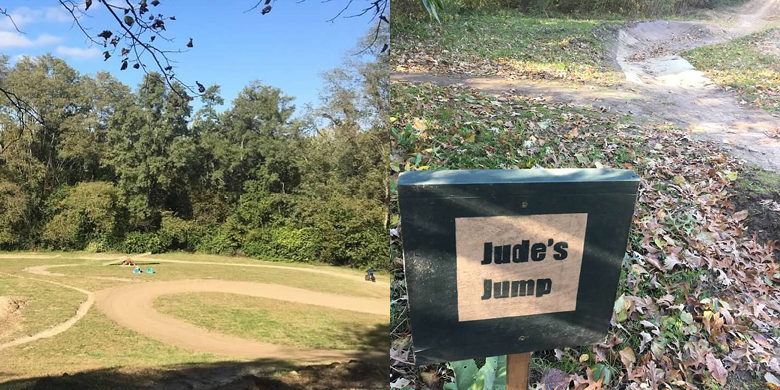 The trail offers a smaller dirt path loop for younger riders and has many obstacles that help build confidence and skills. A welcoming picnic table and tree swing at the entrance often become a gathering place for people to enjoy a break from riding, or to just watch the cyclists. The rules are posted on a simple sign: Helmet required; other safety gear recommended. Walk the paths first. Take your litter with you. Look out for other riders. Have a good time. (And everyone does.)
Local bike enthusiast Dan Benz and his son, Magnus, visit the trail often. "We used to drive to Kansas City or other areas in the region to find paths like these. This one keeps getting better and better, and we really appreciate all the volunteers. This bike path has similar paths in Lawrence, Lincoln and Kansas City beat, hands down," said Benz.
Ride It Like You Stole It has become a family favorite, and also features a Giving Tree. Here you can donate bikes or bike gear for others to use, or grab something you're in need of to borrow for your ride. The popularity of the path is building around visitor photos and social media, as well as across niche bicycling resource pages.
This week, we thank all the volunteers, including many from Horizon Cycling, who are continuing to keep the bike park clean, fun and adventurous. Nothing beats an outdoor adventure for the whole family, especially when there's a good story behind it.