Content marketing is about adding value to your customers and prospective customers, but you need a strategy beyond simply churning out information to your audience. While they might be impressed with what you know, it may be expertise that's wasted because it's simply not relevant at the moment.
A great content marketing strategy delivers value at the right time. That means that a casual visitor to your website doesn't really care about your infographic about how to use a specific feature on your product. Not that we're not impressed, though.
When you're creating a plan for content, it's not enough to simply throw out everything you know in the shape of blogs, social posts and video segments. Even if they're funny. Even if they're cool.
You need to think in terms of touchpoints. Visitors to your website likely tend to follow a relatively similar path from mild interest to customer to superfan (don't worry, you'll get some). The touchpoints are each time that visitor is somehow interacting with your brand through your content marketing. You'll need a way to identify where and when those touchpoints tend to happen, and then make the most of them with the right content at each stage.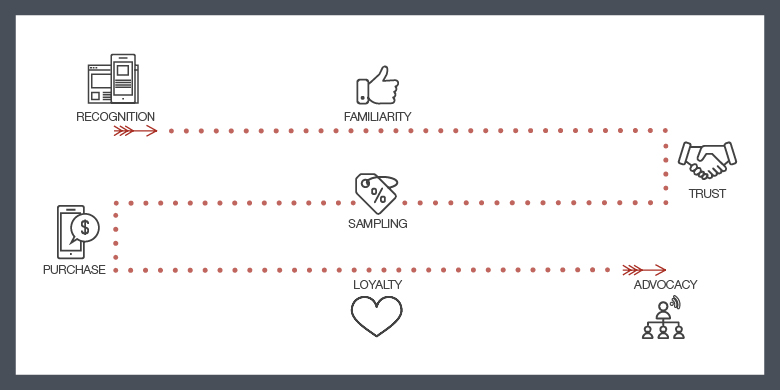 Understand the buyer's journey: Your first step is to bring your team together to establish what that buyer's journey looks like, and how you'll create content to help usher what began as a casual visit to your website into a more serious customer relationship. As you think through your buyer's journey, include these considerations in your process:
Talk through the typical journey that a buyer takes when moving toward a purchase and identify key points where they make contact with your company.
Discuss the customer's needs and expectations at each of these points, with an eye on reaching a place where you can effectively anticipate them.
Determine where in this journey you are already effectively connecting with customers through your content marketing. Find out what's working and what's not.
While your buyer's journey will be unique, there are certain common steps that seem to be somewhat universal:
Recognition: This is the first impression stage. The potential customer may spot you on their friend's social media feed or encounter a blog share, so look at each content piece with the eyes of a new potential customer.
Familiarity: The potential customer knows who you are, and they like what they see.
Trust: They're beginning to believe you know what you're talking about, and they turn to your company for advice. This is the ideal stage for blogs that will demonstrate your expertise.
Sampling: This is the stage where you may want to invite a lead to try your product, either at a discounted rate or during a promotion. This may be a good time to invite them to subscribe and become a part of your email newsletter community.
Purchase: You're celebrating, and you should! But don't get comfortable here; it's important to not lose momentum.
Loyalty: Look for opportunities to build on your customer's positive experience. Maybe they'll even be willing to tell you what would make it even better. Use social media to connect and invite engagement.
Advocacy: This is the golden trophy of content marketing. You'd love for every customer to not just purchase from you, but shout from the social media rooftops how great your brand is. You can use this opportunity to promote superfan status as an exclusive club, with access to specialized, unique content that's just for your best customers.
Effectively interpret and leverage data: You can use Google Analytics or other data sources to better understand what behaviors or actions are associated with different points in the buyer's journey and as potential customers arrive at certain touchpoints.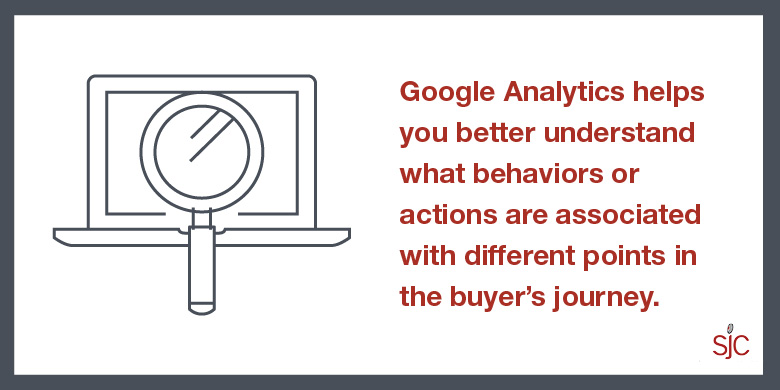 Maybe you lose a disproportionate number of potential buyers when they've visited your site twice in a short period of time. You might decide, for example, that this would be a good place to suggest a content piece intended to get them beyond that point in the journey. It might be a piece that talks about features to look for in a product like yours, or discusses how to use a particular product in the most cost-effective way.
You can also determine word clusters and other data that help shape your content marketing strategy.
Create a consistent content strategy across all channels: Your buyers will be interested in different topics as they move through the buyer's journey, but they should still be able to tell, with just a glance, that each item came from you. You need consistent messaging, as well as sticking to the color scheme and look that defines your brand.
Draw them in with a bit of incentive: You know that every time email recipients click through to a particular blog, you have a great rate of conversion. So do everything you can to get them to click. Do you include a discount promotion for purchase, or entice them with your funniest and most clever video imbedded in the email? After your data analysis, you should know what pushes your visitors to become leads and then converts those leads to customers. Use your content marketing strategy to push things along in the right direction.
It's impossible to create a strategic content marketing plan without identifying your company's unique touchpoints. We've got the coffee brewing and a comfy chair with your name on it. Contact us at SJC Marketing for a strategy session to start diving into your buyer's journey and identify the points where high-quality content can help you spur growth for your company.