What says fall more than bluegrass music, warm cobbler and lively conversation at a historic landmark? Not much, really.
Soon the Ag Expo Center board and leadership – a nonprofit initiative to build a state-of-the-art arena, concert venue and classroom space on a multi-acre site near St. Joseph, Mo. – will bring all these elements together to showcase the progress on this multi-faceted project.
The event is called the Prime Time Harvest Celebration, and it's set for Friday, November 15, 2019, at the Pony Express National Museum community room space. Organizers plan to share an update on the progress of this regional project, including photos and a video that communicate all the opportunities the Ag Expo Center has to offer. A prime rib dinner will be served, and entertainment will be provided by the Baker Family, a Missouri bluegrass/country/gospel group recognized on PBS Great American Bluegrass and America's Got Talent, among other national venues.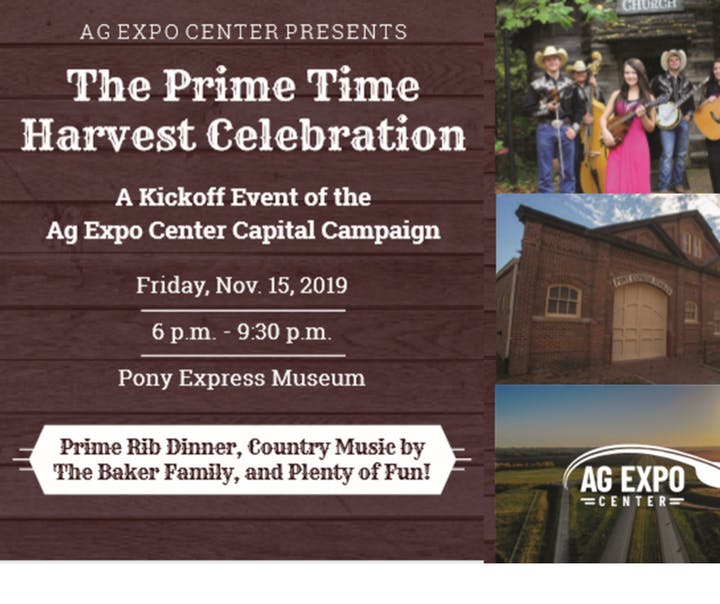 Another event highlight will be the "feed the need" auction, serving as another critical step in the ongoing Ag Expo Center Capital Campaign. The current campaign moves the project into a new phase, with several milestones completed already. A highway interchange and bridge have been completed, allowing for increased economic development and opportunities for job creation at the multi-acre site. Several regional and local partners have worked together as the board and volunteers move the project forward, one task at a time.
Ultimately, the Ag Expo Center will be a combination of economic opportunity, tourism, event and concert space, classroom learning, innovation and agricultural venue. Each of these elements not only helps secure that local talent can remain in the region, but also continues to boost St. Joseph forward as a key part of the growing agricultural sciences corridor.
Like many local nonprofit organizations, a showcase event helps build excitement for the project and informs supporters of the work to date. It's also a great way to generate more overall project engagement, and it creates a casual and fun setting for residents to ask questions and consider their own involvement.
This week, tip your mug with a "yee haw" for local economic growth. Then learn more about the ongoing work and impact of the Ag Expo Center at agexpocenter.org/future, including details for the Prime Time Harvest Celebration.