It's summer, and it's hot.
That means it's the perfect weather to feel the wind in your hair at a locally-owned electric go-kart track, Joe Town Speedway. Built in 2018, Joe Town Speedway is one of the most technologically-advanced tracks anywhere, with the karts operating with no gasoline. There's no motor-like smell, no fumes and a much quieter sound to this track than traditional karts.
But don't let that fool you. The fun is big-time and the speed is real.
The karts can reach a speed of 60 mph in less than four seconds, and they handle the curves with expert precision. There are single karts or double karts – and much to the delight of kart fans everywhere – drifting is welcome on the specially-coated and strategically banked surface. Six of the track's 20 karts can be ridden by a parent and a child together.
Facebook promotions, group events, and even youth and adult kart leagues are helping boost the popularity of Joe Town Speedway as an area attraction. The track compliments co-owner Joe Lane's existing family fun spot, Joe Town Mini Golf.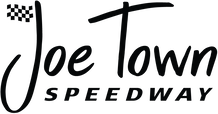 What's especially interesting about the complex is that Lane allowed the public to have some buy-in early in the process. A community vote showed overwhelming interest in the go-karts, with most responders choosing the karts over a second mini-golf course.
Not only did local residents' voices matter, they can still have some say in how their experience goes at Joe Town Speedway. Lane and his team can use a computer to adjust the speed by remote on the karts, so that younger kids can enjoy a comfortable 20-30 mph for their ride – while adults can take the track at full hair-blowing speed.
The owners of Joe Town Speedway and Joe Town Mini-Golf are locals themselves, and clearly understand the need for entertainment options that can compete with nearby Kansas City. A continued interest in the attractions is fueled by fans and visitors sharing their visits on social media, including several positive online reviews.
Today, we tip our mugs to local families who see a need and an opportunity … and then race toward it, full-speed ahead.