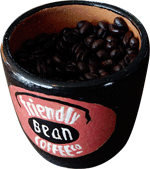 As you sip on your coffee on this Monday morning, think about where it came from. Did you brew a pot in your kitchen or did you go out and grab your cup of joe from a coffee shop? If you went out for your coffee, many would say they went with a well-known brand like Starbucks or Dunkin Donuts.
What if we told you that some of the best coffee in Kansas City is served with a smile at a fair price and it's not one of the "big corporations" in town? Friendly Bean Coffee is a small coffee spot located on Barry Road and North Oak Trafficway.
This low-key roasterie is home to some of the most high-quality coffee and delicious pastries not only in the Northland, but in the entire city. Something unique about them is that they make sure that the farmers who produce their product get a fair price for their crops. To make sure this happens, they try to purchase their coffee from places where the importers have "direct relationships with the farmers".
Friendly Bean Coffee also has couches, tables and seats at the counter for caffeine lovers to sit and enjoy their cup and pastry in comfort. They have plenty of reading material, magazines, and even board games to help pass the time. They also offer free WiFi so you can sit down and work for a few hours in a quiet, cozy environment.
And there's a reason why they're called "Friendly" Bean Coffee! Their employees are always warm and welcoming to their customers, which in turn has helped them create strong brand loyalty with their customer base.
At SJC Marketing, we love to support local businesses (especially ones like this because we have quite a few coffee junkies on staff), and we encourage you to stop by for a coffee and maybe a treat! Oh and don't forget to grab a punch card, after you buy your 10th coffee, number 11 is free!!