Aluminum Christmas trees. Polaroid photos. Homemade ornaments. Old-school cookie cutters. Classic holiday hits.
Throwback and retro styles are back with a flair across movies, fashion and food; and as marketers, we're enjoying this trend across the brands we work with, too. But there's nothing quite like Christmas nostalgia. Even as we usher in some new and trendy decorations, or maybe a few interesting menu changes, many of us have nostalgic memories that make the holidays feel like the holidays.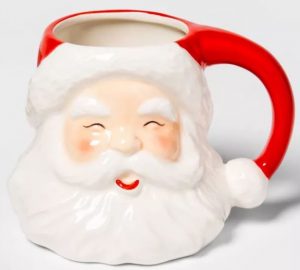 This week at SJC Marketing, we tip our Monday mugs to sharing childhood memories that make us feel as warm and fuzzy as all that egg nog. (Especially in a collectors' 1970s Santa head ceramic mug).
Here are some nostalgic memories from some of our SJC Marketing team from their childhood:
"My family is Mexican, and every year we have Mexican food on Christmas Day. It's the full spread … Enchiladas, tamales, pork chili, rice, beans, fideo, tostadas and tortillas warmed on the stove. Tamales take a lot of time to do them right, so they were (and still are) a special treat."
Jessica Stewart, Account Manager
"We would go to my grandparents' house and all my cousins were there. We didn't see them very often so it was a tradition that we had a cousin sleepover over Christmas. My grandma loved to garage sale, and she would pack a big box of all the things she found throughout her garage sales with silly gifts for all the kids. The things were so random, but we really came to look forward to it."
Lisa Smith, Content Manager
"My cousins and I would always perform all of our Christmas songs for Christmas Eve. When we were young, we would call out the songs as football plays. Whoever the quarterback was would call the song and then we would stand and start singing it. We always went to both sides of my family in Nebraska and had chili and oyster soup."  (If that doesn't say she's a Nebraska girl, then we don't know what does.)
Jordan Shadwick, Account Manager
"One year my dad decided to stop putting up a large Christmas tree because it took too much effort. Now my wife and I have an apartment and there's not a ton of extra space. I'm thinking we will use the same tiny one we used last year and have a simple tree."
Brian Juhl, Web Developer
"We shared a farm with my grandparents, and many times had to walk through deep snow in the fields to get to their house on Christmas Eve for our family dinner. Trudging through the snow with the stars twinkling, while seeing the lights of my grandma's kitchen glowing up the hill, was one of my favorite Christmas memories." (Yes, we walked uphill in the snow both ways, kids, and we liked it.)
Rachel McCoy, Account Manager
"We would always put up the tree the weekend after Thanksgiving and drink milk nog. Christmas Eve and Christmas day were always a big deal to me as a kid. We would go to my aunt's house to open gifts with my cousins on Christmas Eve with my dad's side of the family, and on Christmas day we would have my mom's side of the family over and I would get to hang out with my cousins I didn't get to see that often. I was excited for the food …. and the family. Maybe in that order. Once, I actually thought I heard Santa on Christmas Eve night. Maybe I did, I'm still not sure."
Dylan Cutitta, Client Project Coordinator
"We had huge family get togethers at my parents house with my dad's side of the family on Christmas Eve every year. After the meal was done and things were cleaned up, my uncle would get his guitar out and we would sit around and sing Christmas songs. Then when it was time, we would all head over for our Christmas Eve service at church."
Ronny Jo Hennis, Client & Communication Specialist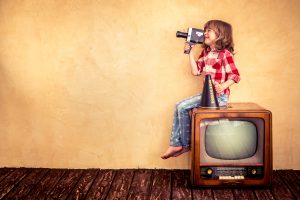 "When we were kids, all of us had our bedrooms upstairs. There was a doorway leading down from the stairs to the tree. My dad made us go one at a time down the stairs to see what was under the tree. He had one of those old Super 8 cameras with a really bright light. Today, we still talk about that bright light. It's not Christmas without it."
Susan Campbell, Founder/CEO
"Every Christmas Eve after we were asleep our parents would take all our toys out of the boxes and assemble them. When we came down Christmas morning and saw it all, we were so excited. One year I got an easel and it was already set up and ready for me to start drawing! My last few years at home, my parents had me help with this task. I had to assemble a desk. It's really hard to do while being quiet!"
Hannah Johnson, Administrative Manager
This Monday, take a moment to take it all in as you enjoy the holidays. Share your nostalgic moment with us and have a very Merry Christmas!