Anyone who has a pet knows the benefits they bring to your life. Not only can having a pet increase fitness and lower stress, but best of all, they bring unconditional love. Many people say that their pets are members of the family.
Recently, SJC Marketing's own Jessica Stewart, added a new puppy to her family, thanks to Pawportunities, a rescue group in Blue Springs, Missouri. People that say money can't buy happiness have never paid an adoption fee for a new pet.
Jessica recently lost her dog Maya. She was by her side for 15 years. She rescued her from a local shelter when she was two months old. She didn't know when she would be ready to welcome another dog into her home. After several months of living in a quiet home, she started looking.
She knew she wanted to adopt a dog. There are so many animals that need homes at shelters and foster homes all over the United States. Doing a search using petfinder.com, she found puppies available for adoptions with Pawportunites.
Pawportunities is an entirely foster-based rescue organization. Animals are in foster homes located throughout the entire Kansas City metropolitan area, on both sides of state lines.  This not only helps keep overhead costs down, allowing finances to remain focused on animal care, but it is also tremendously helpful in preparing the pet to transition into their forever home.
Jessica filled out an application and had a call with one of the volunteers. Before COVID-19, they were doing home visits. They do vet the potential adopters.
Jessica chose to meet Chestnut. Her foster mom met her at a park. She got to play with her and feel out the puppy's personality. Of course, she fell in love. She picked her up a week later after she was spayed and had her vaccinations. Her name is now Frida and she is spoiled, and her home is no longer quiet or clean.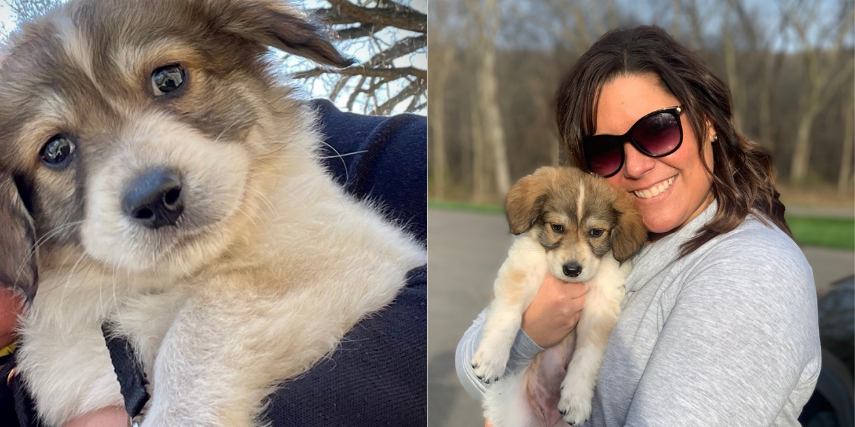 We encourage you to take some time to see what Pawportunitites is all about. As one anonymous person said, "Saving one pet won't change the world, but for that one pet, the world will forever change."