Monday Morning Coffee With Eclipz Lake Branch
You may have heard of a little shop downtown known for its delicious popcorn and rolled ice cream. Eclipz Gourmet Popcorn and Ice Cream has already been making its mark in downtown St. Joseph. Owner Dillon Cox has experienced success in opening a business that has contributed to the revitalization of downtown and is interested in helping revitalize other areas in St. Joseph.
Lake Contrary has been a popular location for locals to participate in outdoor activities for many years. In fact, many may not know Lake Contrary used to be referred to as the "Coney Island" of St. Joseph. At the turn of the twentieth century, the lake used to be home to an amusement park, resorts and clubhouses that made them a go-to spot for summertime fun in Northwest Missouri.
Most of the park unfortunately, did not survive the flood of 1952. Many rides were destroyed due to the rising nine feet of water. After a tornado damaged the last existing ride in 1962, it was the end of the amusement park. Many instead chose to spend their days basking in the sun on the beach.
Dillon Cox started visiting the beach to kayak and saw an increasing number of people who would make weekend, family trips to be outside in the sun and enjoy the water. He saw an opportunity to further his current business by offering ice cream in a small cart by the lake. His small cart soon turned into a 32-foot building.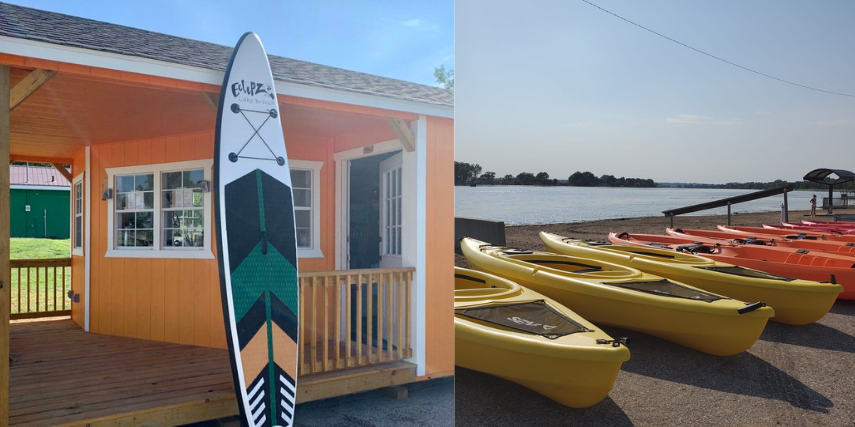 Cox has a vision to bring back the South Side to it's full potential and wanted to start by offering recreational equipment that could be rented out for hours of fun. Soon after, he created a full environment there on the beach for people to enjoy water activities or some food from the concession stand and fun with the family. Even during the past year of virtual learning, he offered opportunities for students to earn physical education credits using his rentals.
Eclipz Lake Branch offers kayak, hydro bike, paddle board and paddle boat rentals, in addition to concessions and live music. Eclipz Lake Branch is open from Labor Day through October. For more information, follow them on their Facebook page.
We at SJC Marketing love supporting local businesses, especially when they offer fun activities that promote community involvement and revitalization of our beloved St. Joseph. It is great to see areas of our community come full circle.