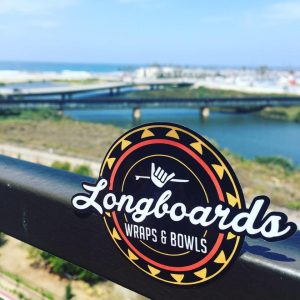 If you haven't stopped by a Longboards, get ready to say "Aloha" to some of the most delicious food you've ever had! Longboards Wraps and Bowls started about 15 years ago with locations in Gladstone, Missouri, and Liberty, Missouri, but have now expanded to other areas including Lee's Summit, Missouri, and St. Joseph, Missouri. They are also opening a store inside the Hy-Vee Arena (formerly known as Kemper Arena) in downtown Kansas City, Missouri.
Longboards offers a combination of grilled, deli, and quesadilla-style wraps, noodle bowls, salad bowls and much more. In addition to their regular menu, they also have limited-time specials that are written on a board in the restaurant. These special offers aren't your everyday meat, rice and veggie wraps.
The "Mac Lethal" is a prime example of just how creative these wraps can get. This fan-favorite is named after its creator, Kansas City native and hip-hop musician Mac Lethal. This insanely loaded-up wrap has Mac-n-Cheese, smoked brisket (this is Kansas City, after all), Cajun sausage, turkey, bacon, chicken, egg, Doritos, (yes, you read that correctly) and sriracha aioli. That is a lot of food all in one wrap!
If your appetite isn't satisfied by their standard wraps (which are no small meal themselves), don't worry. Their OG style is the gargantuan version of their grilled wraps that are all but guaranteed to fill your belly in one sitting! They have a portion of their menu dedicated to these monstrous wraps but you can have any wrap on their menu upgraded to OG style.
In addition to mouth-watering food, the Longboards environment is famous for its welcoming and laid-back nature. They have tables that are shaped like surfboards and unique artwork on the walls. Their employees know how to make you feel at home, as they always ask how your day is going and do everything in their power to make sure your Longboards experience is top-notch.
With employees that reside in both St. Joseph and Kansas City, our team at SJC Marketing is no stranger to a Longboards wrap. We strongly suggest you drop by one of their six locations for the best bowl or wrap you've ever had!
PRO TIP: Looking at their menu for the first time can be intimidating with so many tasty choices, but their most popular wraps are the Cabo Chicken (which we HIGHLY recommend) or the Cabo Beef! Enjoy!