Elaborate floats, queens waving and children scurrying to pick up all the candy thrown, everyone loves a parade! The annual Apple Blossom Parade and Festival is a tradition in St. Joseph, Missouri, that has been around since 1924. Occurring every spring, this local event is the third oldest Apple Blossom parade in the nation and a favorite for all ages.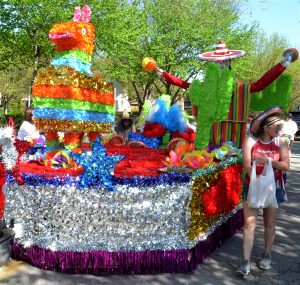 A variety of floats from various organizations are decorated using streamers, chicken wire and pomp, balloons and more. Politicians, bands and dancers can be seen on the parade route. The Apple Blossom queen, junior queen and princess, all crowned in March, will also grace the parade route.
The queen contest started two years after the first festival and has since added the junior queen and princess. The winners have been a variety of young women from Northwest Missouri who have gone on to do great things.
This year's theme is "Olde Tyme Apple Blossom Parade," which celebrates the long history of the parade and pageant. Every year the community looks forward to the creative displays of parade entries as they center their decorations around the theme.
Recently, Made with Uncommon Character teamed up with the Apple Blossom Parade and Festival to host a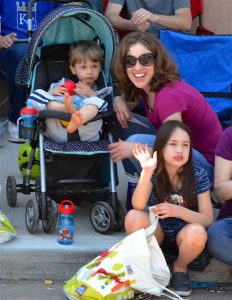 barbecue contest in Civic Center Park. Festival goers can taste barbecue from competitors all over the Midwest. Awards are given in a variety of areas including Grand Champion, People's Choice Tasting, Chicken, Pork Ribs, Pork and Beef Brisket. There is also a full BBQ meal available for purchase.
This year's parade will take place May 4th.  Many residents of St. Joseph have fond memories of the Apple Blossom Parade from being the child trying to get all the candy to the parent watching their child wave at the floats as they pass by.
At SJC Marketing we love the rich history of local events like the Apple Blossom Parade and invite you to join us this year and enjoy the parade. To learn more about the parade and see photos from past parades go to their website or look them up on Facebook.