Trendy boutiques come and go. They fluctuate between online sales and ever-changing counter "must-haves." But the thing about Merle Norman Cosmetics, says Jennifer Hall Milbourne, local owner, is that "it has always been there and will always be there."
Milbourne says Merle Norman cosmetics represent the spirit and values of its founder, almost 90 years after she launched the first store.
"This isn't a store like the others out there that can be overwhelming," says Milbourne. "The Merle Norman brand isn't going to reveal the latest celebrity line of products. Those seldom last. The story of Merle Norman is about empowering women to look their best and become entrepreneurs."
And it's an interesting story for sure. Merle Mozelle Nethercutt was born in Indiana in 1887. She studied medicine and chemistry before moving to California in the 1920s. The original motivation for what became Merle Norman cosmetics stemmed from Merle's own interest in finding high-quality ingredients for her own complexion. Her kitchen was her first laboratory, and she mixed original ingredients in her own coffee pot. Some of the products that emerged from those household "experiments" are still popular in the Merle Norman line today. She opened the first official Merle Norman store in 1931, and today there are hundreds of locations nationwide. Among her business ideas is the popular "try before you buy," which is still a hallmark of the chain's service model today.
"She really was a trailblazer and led so many women to open their own successful businesses during a time when that was uncommon," adds Milbourne.
The original concept embraced by Merle Norman works well for Milbourne at the St. Joseph location. Milbourne is from northwest Missouri originally, and considers St. Joseph a "big small town." She owns the store in partnership with her husband, Bob. Recently renovated, the store has more than 2,000 customers and ships cosmetic products and skin care items across northwest Missouri and as far away as both coasts and California.
"I can be an entrepreneur in an environment that offers so many benefits that larger cities don't. I know my customers. I know what's going on in their lives. I know my neighbors and how their businesses are doing. We all talk to each other and are willing to help one another," says Milbourne.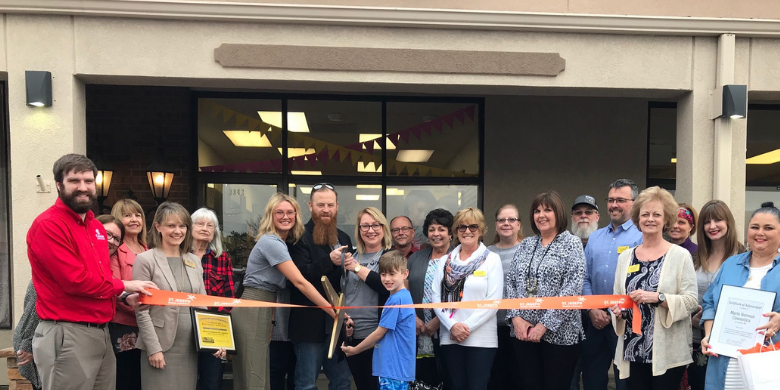 Her store joins a large number of locally-owned businesses, and this provides a great deal of support and encouragement, Milbourne adds. As a member of the St. Joseph Chamber of Commerce, this support includes networking events, marketing opportunities and events like ribbon-cuttings.
Like many brick-and-mortar businesses, Milbourne makes genuine customer knowledge a big priority and has adopted a customer-oriented model that reflects quick delivery trends. Customers can email their orders, call or text. Milbourne will prepare the order and have it ready and waiting at the checkout when customers arrive. "For some of my customers, they text me when they pull up and I walk the order out to their vehicle," adds Milbourne.
"I would tell anyone to go for it if there's something on your mind as far as starting a business," says Milbourne. "It's not easy. But do your homework, lay out a plan and get a support system in place. There's a lot going on behind the scenes, but it's worth it."
As a fellow locally-owned female business, the SJC Marketing team tips our Monday morning coffee mugs to Jennifer and so many others in our community who are trailblazers in their own industries.