How does a city get selected to host a major sporting event?
Kansas City submitted a bid to be considered a contender for a host city for the World Cup in 2026. This was no small feat. It included a long process of putting together a campaign, a bid book, creating petitions, securing honorary bid captains and an in-person visit from delegates from FIFA.
An Executive Committee developed a marketing strategy built around a theme with messaging that was so direct that the intentions of Kansas City were clearly understood: We Want The World Cup. A bid book compiled with general information about Kansas City including specifics on transportation, food, entertainment, tourism, etc. was completed and hand-delivered to New York City.
The process after the bid book was put together was a calculated plan of attack to show the world that Kansas City truly values the sport of soccer and should be selected as a host city for the 2026 World Cup. Petitions circled the internet and with the help of Mayor Quinton Lucas, Co-Chairs like Clark Hunt and Honorary Bid Captains; Patrick Mahomes, Salvador Perez and Matt Besler, Kansas City was positioning itself to take on the challenge to be selected to move past the initial steps and secure a visit from the committee delegates from FIFA.
Then came the preparation and planning around the delegate's visit. A logo was created depicting a location pin in the shape of the iconic soccer hexagon print and the year 2026.
Signs were displayed around town including a 90-foot billboard with the theme We Want The World Cup, displayed loud and proud for all to see. Even the hotel that the delegates stayed in was ready to host a watch party for a local soccer game.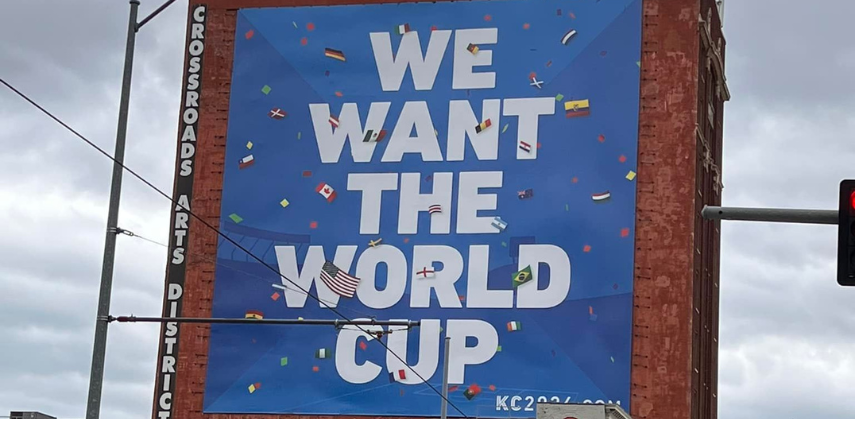 Delegates from FIFA visited Kansas City to see the city, get immersed in the environment and learn more about Kansas City's passion for the sport of soccer. The first thing the delegates saw when they arrived in Kansas City that evening was the downtown lit up blue. They were able to walk a path that was strategically planned to show how much Kansas City wanted the World Cup to be hosted.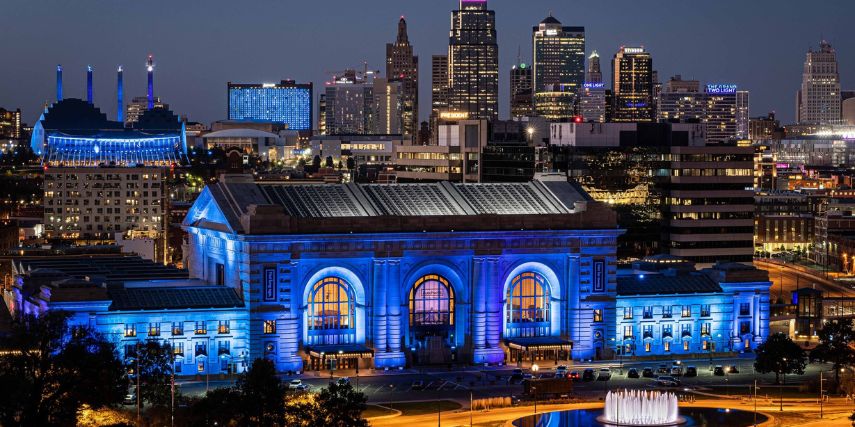 The delegates were met with surprises like Mayor Quinton Lucas joining a pick-up soccer game in the middle of town that just happened to be going on when the delegates were there.
On June 16, 2022, several viewing parties across Kansas City witnessed the announcement of host cities for the FIFA World Cup 2026. All of Kansas City held its breath and waited in anticipation of hearing the words Kansas City come from the lips of the selection committee.
And it happened: Kansas City was selected to be a host city for the World Cup! All of that hard work paid off.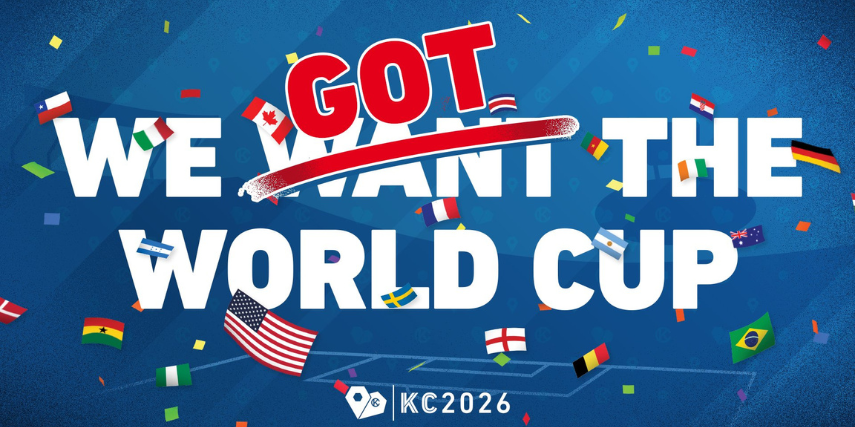 What we learn from this campaign is the importance of direct messaging with a clear message that gets straight to the point. It also required a focused marketing strategy that was carried out through every phased approach of this process. A marketing strategy and a clear message are so crucial to carry out a successful campaign and if you need help developing yours, SJC Marketing is here to help.