On Saturday, August 24, hundreds of people in the St. Joseph, Mo., community will take a seat – in the name of helping children move forward from homelessness, unsafe family situations and other challenges they may face.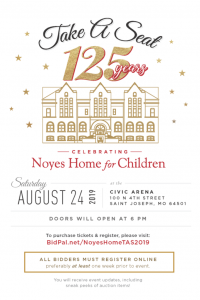 In reality, the annual "Take a Seat" fundraiser for the Noyes Home is more about standing up than sitting down. Founded in 1894, the Noyes Home stands as a historic beacon along Noyes Boulevard, opening its doors for the past 125 years to children who may be in harm's way. Within the multiple floors and rooms of this beautiful mansion, an average of 32 children are housed daily — but the organization isn't an orphanage. Instead, it's a short-term and fully-functioning home for kids while families take their next steps forward. (Many more children and families receive help from the Noyes Home throughout the year from counseling and other programs, even if they don't call it "home.)
Children served at the Noyes Home range from infants to late teens, and many are living with unsafe family situations, such as food insecurity, violence or homelessness – while others are part of the foster care system. Some stay a few days; others stay several months. Daily living is managed by a 24-hour team, and includes school attendance, tutoring and homework time, counseling, an on-site library, outside recreation time, field trips, volunteer service and learning new life skills. The Take a Seat creative space in the lower level helps children find outlets to think about their goals and express their individuality, while neat and cozy upstairs bedrooms provide a quiet place that's all their own.
Every hour, children are inspired and encouraged in a loving atmosphere. For the alumni who visit or call just to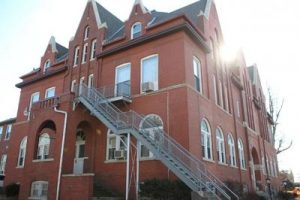 check on the Noyes Home, this is a place of happy childhood memories. In 2019, as the Noyes Home celebrates 125 years, the Take a Seat event will highlight the truth that "love lives here" and showcase how critical the community's role is in this mission.
The Take a Seat event features a silent auction of a diverse list of home, travel and local items, plus food and entertainment. And just like it's been since day one when the Ladies Union Benevolent Association (LUBA) began managing the Noyes Home, the community stands behind Take a Seat and works together to help ensure the Noyes Home doors stay open. Local sponsors of Take a Seat demonstrate their commitment to the critical mission, including Gray Manufacturing and Hillyard, among several others. Area organizations, like the St. Joseph Woodworkers Guild, are handcrafting items for the auction – even as they donate their time and expertise to repairs on the home's ornate woodwork. Across social media messages, an interactive website and plenty of photos, the message is inviting and inclusive as part of a full year of community-based events.
There's no place quite like the Noyes Home in the entire region, and no place quite like the Take a Seat fundraiser to share the mission and engage the community. Today, we lift our Monday Morning mugs to another 125 years of open doors and open hearts as our community helps families stay strong.