A cookie, by definition, is any variety of hand-held, flour-based sweet cake. Some people prefer their cookies crispy, some soft, some with frosting, but most can't pass up a good cookie.
St. Joseph is getting a new place for people to get their cookie fix. St. Joe Cookie Company is opening a storefront at 1207 Frederick Ave. You will have wait to visit them until next year, but don't worry if you can't wait, because you can place orders on their website for some delicious treats for local pickup now. They also have local popups at area events to get your cookies in person. Follow them on Facebook for dates and locations where you can find their Cookie Cart.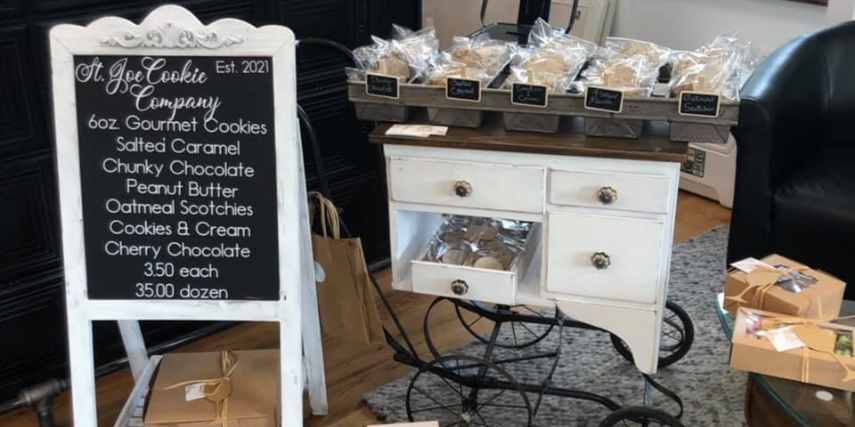 "These cookies are seriously some of the best I've ever eaten! Delicious!" A customer on Facebook wrote. "I guarantee you will not want to share."
St. Joe Cookie Company creates recipes using local, gourmet ingredients.  The dough is mixed and chilled to bring out the richness of each flavor and baked to perfection. They have six signature cookies but release select cookies monthly. Their signature cookie flavors are Chunky Chocolate, Cookies & Cream, Dreamy Vanilla, Oatmeal Scotchies, Peanut Butter and Salted Caramel.
You can order boxes for birthdays, corporate events, Valentine's Day, as a congratulations treat or just because. Who wouldn't want to get cookies for no reason?
They can also create a Crazy Cookie Cake for your special occasion. It's a six-pound cake of crazy fun. You can choose from an eight-inch round or 12X15 inch cake. These delicious creations come in Dreamy Vanilla or Chucky Chocolate. They are frosted in sweet buttercream icing.
The reviews they have received will make your mouth water! "Delicious cookies, bigger than your hand! The cookies are packed full of candies, chocolate chips, nuts, etc. They are backed perfectly with a soft center and are a great treat!" one Facebook reviewer says, "Try them out-you won't be disappointed!"
At SJC Marketing we love supporting local businesses in our community. And we can't wait to try these cookies!