Still available for curbside pick-up during this time!
Do you debate between what you should eat and what you want to eat? Life feels like one long struggle between the donut demon on one shoulder and the apple angel on the other, duking it out to win over your appetite. Even if you successfully side with the apple most of the time, that donut can make you feel as if you've sold out with just one glazed, custard-filled bite.
Good news. At Shaking Bowl Japanese Korean Grill in Oakville, Missouri, you don't have to keep having this fight. Flick those little guys off your shoulders and walk confidently into an experience that's both deliciously satisfying and nutritionally sound.
Shaking Bowl offers a variety of combinations, including salmon, chicken and beef bedded on a colorful variety of vegetables. For instance, the teriyaki chicken shaking bowl came served on zucchini spirals, matchstick carrots, spring greens and red cabbage. These are offered in such abundance that at first it can be impossible to see the generous serving of brown rice hidden below the chicken and vegetables.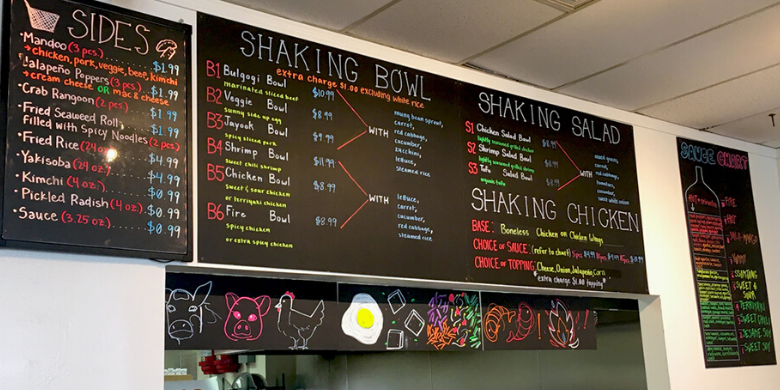 But is it good?
Yes. Definitely yes.
To balance out the healthy shaking bowls, there are some enticing side items that will satisfy your need for deep-fried Asian specialties. Shaking Bowl has only been in business for two months, but it's catching the attention of many longtime Oakville residents. The owner, Christine Kim, opened the restaurant with her husband, who runs the grill while she greets customers and takes their orders.
The eatery is getting started with a temporary banner facing the road, but they want to know how people are hearing about them. When customers place an order, Christine asks what brought them in.
Entrees range in price, with a basic chicken shaking bowl starting at under $9.00 and more complex dishes costing about $15.00.
Shaking Bowl is located at 5544 Telegraph Road and during this time is still offering curbside pickup Monday through Saturday from 11:00 a.m. to 8:00 p.m. You can call in your order and pick it up to enjoy delicious food that won't compromise your nutritious lifestyle.  All while supporting a wonderful small business!