"You can't buy happiness. But you can buy pizza, and that's kind of the same thing." – Anonymous
Everyone loves pizza, some people could eat it for every meal. Well, there's a new pizza place in St. Joseph, Pizza Tascio. The New York-style pizzeria recently opened at 2201 Frederick Ave. and it is delicious!
Eric Borger, the owner, grew up in New York and was one of those people who could eat pizza for lunch every day. Moving to St. Joseph as an adult, he couldn't find the perfect slice of pizza, so he began to try and recreate it here. Along with his business partner, Josh Young, they are making fresh pizza with quality products that customers love.
"Absolutely hands down the best pizza I've had since living here in Missouri. We are from Jersey so pizza here isn't up to our standards haha!!! Until now definitely will be our new pizza spot!!!" says one review on their Facebook page.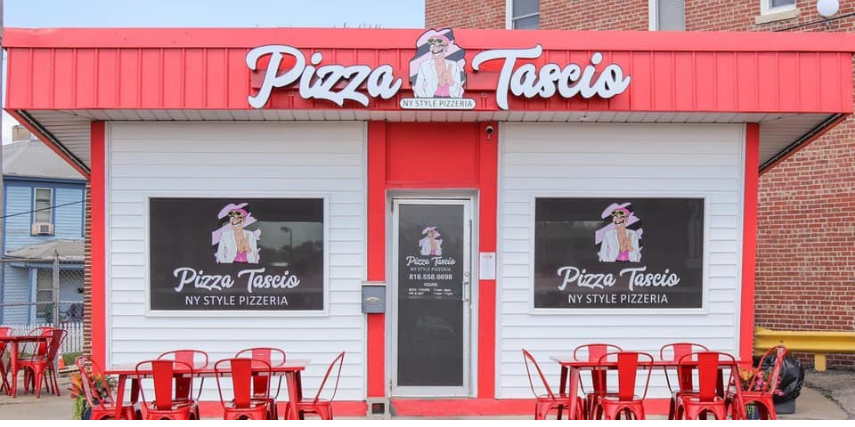 Modern pizza evolved from similar flatbread dishes in Naples, Italy, in the 18th or early 19th century and made its appearance in the United States with the arrival of Italian immigrants in the late 19th century. This pizza was popular among large Italian populations in New York City, Chicago, Philadelphia and St. Louis.
New York-style pizza is pizza made with a characteristically large hand-tossed thin crust, often sold by the slice, to go. The crust is thick and crisp only along its edge, yet soft, thin, and pliable enough beneath its toppings to be folded in half to eat. Traditional toppings are simply tomato sauce and shredded mozzarella cheese.
Pizza Tascio has a variety of items on the menu including traditional toppings like cheese and pepperoni. The menu also includes specialty pizzas like white pizza and upside-down pizza.
To view their full menu check out their website https://www.pizzatascio.com/.  And if you want to go try a slice, give us a call.  We would love to join you!