St. Joseph, Missouri, in its early days, was a bustling outpost selling goods to travelers as they headed west. At one point, the city was the leading wholesale center for the building of the new frontier. Those times have come and gone, and shopping is done more and more online but for those who still enjoy shopping in a brick and mortar store, a new unique gift store has recently opened.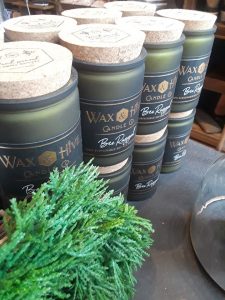 Bee and Thistle, a gift and home goods store, is located at 1137 Frederick Avenue, in the historic Ryan Block Building, which was built in 1899.
The shop was named Bee and Thistle because the bee signifies prosperity and the thistle is the national flower of Scotland, the owner's heritage. Shoppers can find a variety of beautiful home décor and personal gifts. Most items are handpicked from around the world. From St. Joseph inspired items, to clothing, jewelry and textiles. There is even a small loft area that has gifts for children and pets.
The store is connected with Friedrich's Market, an urban farmer's market. A doorway allows visitors to go back and forth between the two shops to enjoy the unique offerings from both.
You may not be headed west, but you can head west on Frederick Ave. to experience a different kind of shopping experience. At SJC Marketing, we love to support local businesses in our community that offer a unique experience for everyone. For more information you can visit www.beeandthistleshop.com.