If you've spent any time with a church youth group, on a school playground or around a summer camp, there's a pretty good chance you've spotted the game 9 Square in the Air.
Grab a lid for your Monday Morning Coffee, because this week, it may get bumped a bit. We're getting a glimpse into the fun company behind what is quickly becoming one of the most popular games for teens and kids…and adults who wish they were teens and kids.
Fun for every age and every skill level, the magic of this game is not just in its accessibility for everyone who wants to play. It's in its ability to act as a tool to foster connections.
It all started when Steve Otey, working as a youth pastor in St. Louis, noticed that the kids in his youth group always seemed to gravitate to the same activities, week after week. He decided to try creating a mashup of two of them: 9 Square on the ground and volleyball. The result was 9 Square in the Air.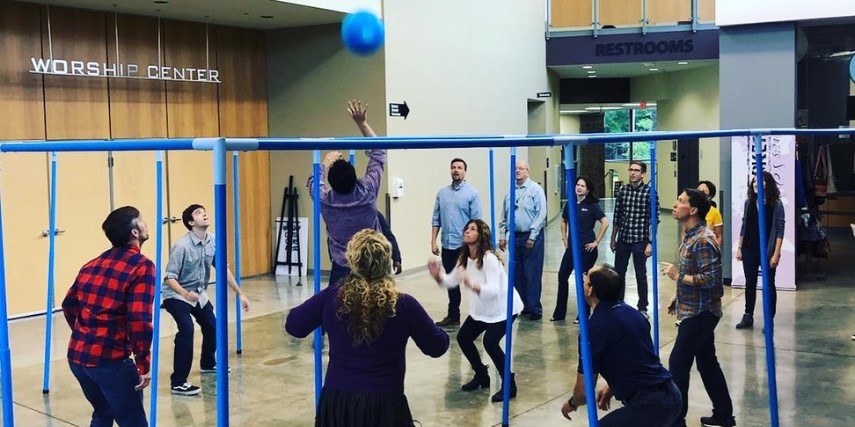 It was an instant hit.
Before long, schools, churches and camps wanted to know how they could get 9 Square in the Air for their own programs. Today, more than 10,000 groups have made 9 Square in the Air part of their go-to activities, and the game is used across the country in youth groups, schools, camps, athletic clubs and parks.
As mentioned above, it's not just that it's a fun game; it's a game that gets people engaged and connecting. It is a lot of fun to laugh together as you try to keep the ball in play, but unlike some similar group games, there's no long period when players are "out" and there's not a big reset to get the game going again. You get out and go back in quickly, and everyone stays involved in the fun.
If you're curious about the buzz around this game, you can see the instructions and a video of game play. It seems worth noting that only a game born in youth group could have what's called "The Jerk Rule," which is also detailed in the instructions.
At SJC Marketing, we love to see the kind of creativity and fun that comes from a company like 9 Square in the Air, and this week we're tipping our mugs of Monday Morning Coffee to Steve and the rest of the Otey family.