A very familiar (and very pink) icon is joining with Habitat for Humanity to remake the Barbie Dreamhouse into 60 Habitat home builds or projects.
As the Dreamhouse reaches its 60th birthday, Habitat for Humanity will celebrate alongside the famous dolls. At least 60 projects are planned for 2022, including new builds, remodels and even neighborhood revitalization to help carry forward the Habitat mission. Goals include creating safer and more sustainable housing for the long-term for individuals and families. Projects will span international locations as well as in the U.S.
One project will include the Greater Los Angeles area to celebrate Mattel's international headquarters. It's a big move for two big brands, and it ties a classic icon to contemporary challenges and solutions.
Some of the projects will include critical home repairs, playhouse builds and contributing to the Habitat's Women Build program. Mattel employees will have the opportunity to volunteer with Habitat for Humanity to accomplish the projects.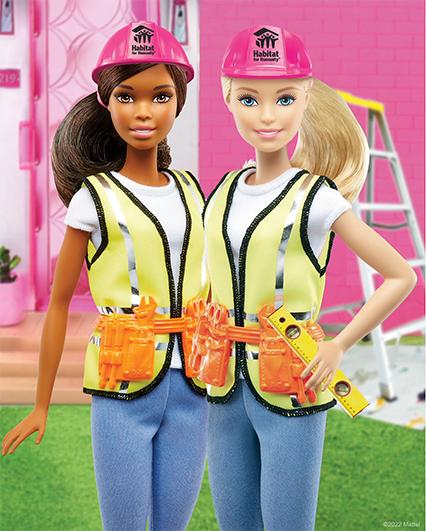 In St. Joseph, Missouri, Habitat for Humanity is helping spread the word about the Dreamhouse project. It's among many initiatives and projects the local nonprofit is working toward to carry out its mission and vision. Currently, St. Joseph Habitat for Humanity has built 79 homes for families who meet the criteria, and more are in the works.
"St. Joseph Habitat for Humanity is a Christian ministry, touching lives by revitalizing homes and neighborhoods in our community in partnership with God's people in need," says Shay Homeyer, Executive Director, St. Joseph Habitat for Humanity. "Building and revitalizing homes and neighborhoods is visible: building hope while transforming lives is what is felt throughout the community, from our homeowners to all of the selfless volunteers. Together, we are able to work side by side with families of low income to make their dreams come true."
On a local level, individuals, groups and businesses can be part of building the "dreamhouse" for area families by volunteering with St. Joseph Habitat and sharing the word about events across the year. Opportunities can include new home construction, landscaping, volunteering at the Habitat ReStore and on committees.
Homeyer says that it's important during new initiatives to remind communities that with the change of focus toward everyone getting back to work after two years of the COVID-19 pandemic, investing in Habitat is investing in the frontline workers in each community.  "Our qualified homeowners are hardworking, they have a 20-year mortgage to pay, and will be here filling those openings and raising their families in our community. Our homes offer neighborhood revitalization that brings pride to blighted areas, and it has a domino effect with existing homes. Support for St. Joseph Habitat for Humanity stays local and help provide safe and affordable housing."
Today, we tip our mugs to all that positive energy – and for some of us, a few personal memories of the Barbie Dreamhouse of our own.