Grant resources for nonprofit organizations are always competitive. In the Midwest, Habitat for Humanity is among the dozens of organizations working diligently to fulfill their mission and garner support. Through community partnerships, proposals, community events, direct mail and an annual event, St. Joseph Habitat for Humanity continues to build new homes for individuals and families who are committed to being an active part of the process and to remain economically stable. They also assist in disaster relief with home and construction materials, work with families and partners for ongoing economic stability education and operate a successful Habitat ReStore.
When Habitat for Humanity learned of an Evergy utility company grant of $10,000 that could help assist with a current on-site construction project, they reached out to SJC Marketing for help on a tight deadline.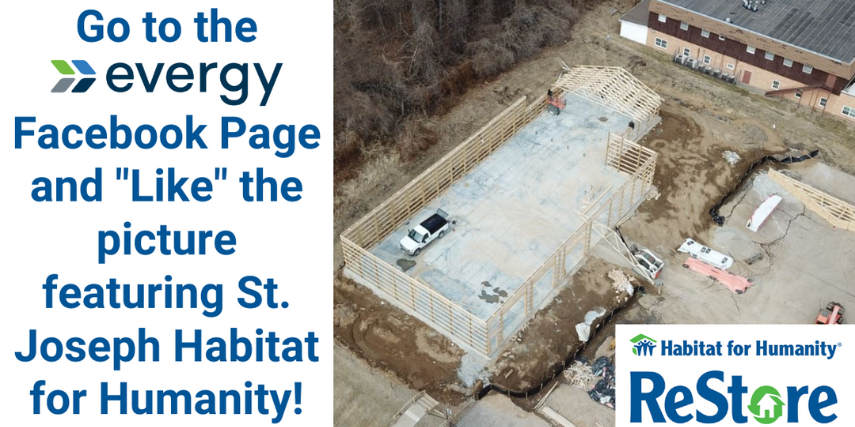 The grant competition required Habitat for Humanity to encourage as many people as possible to "like" a post on Evergy's Facebook page. The top four vote recipients, all regional non-profits, would win a grant of up to $10,000. We decided Facebook ads would be the most cost-effective way to reach a large number of people in a short amount of time. We knew we could target a specific geographic location for a reasonable cost, and that the majority of our target geographic region is active on Facebook.
Since the goal was to help Habitat win a grant to help fund their current construction project, we utilized imagery of the project in its current state, so the audience could see exactly what the grant would be used for. We also used large font and very direct descriptions, realizing the audience would need to do some extra work to cast a vote for Habitat. There wasn't an action the audience could take on the ad; instead, they would have to go to the Evergy Facebook page on their own, find the post about the grant competition, and then find the picture featuring the St. Joseph Habitat for Humanity and "like" that picture. We made it very clear what the audience had to do in order for Habitat to win.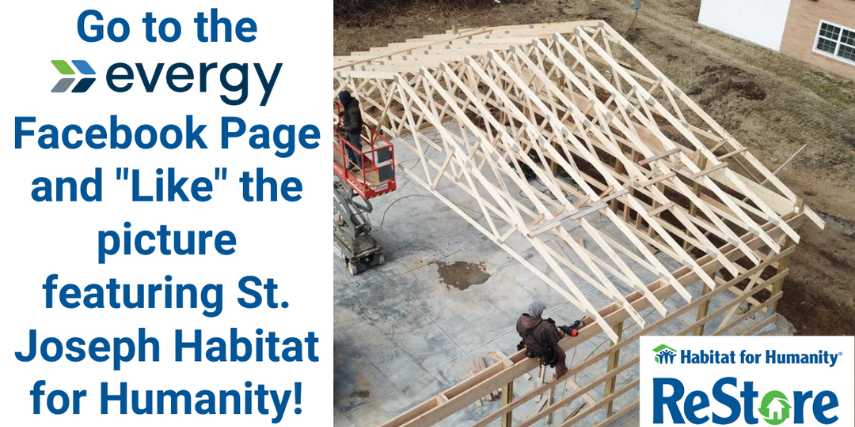 We chose to cast a wide net, targeting everyone in St. Joseph and the surrounding communities. Habitat for Humanity is a popular non-profit in our area, and even those among our audience who didn't have a present connection with the organization would be familiar with what Habitat is and what its mission involves. Our team also encouraged the audience to recognize that all they had to do was take a few seconds to "like" something on Facebook to help a local nonprofit.
The ad performed well, reaching 51,711 people for a small click-through budget. Our ad helped Habitat receive 736 votes in two weeks, placing them in the top four finalists and ultimately winning the grant.
Using social media tools is most effective when a client's expectations and goals are clear, and this translates to very specific steps from a strategy perspective. In this campaign, due to the short timeframe, we created our strategy carefully at the beginning and avoided tweaks or changes to keep the momentum steady.
Facebook continues to be an efficient and productive way to reach a large number of people. Using targeting features, like region and behavioral patterns, paid ads as part of an overall marketing strategy can hit targets and achieve results in a short time.
To learn more about launching a successful social media campaign, contact us today at SJC Marketing.