What do the words bright, dauntless and driven mean to you? To a passionate group of St. Joseph citizens, those words describe the city that they call home and the people and places that make it unique in the best of ways.
At SJC Marketing, we've seen first-hand how these words can have an impact on a community through our work with St. Joseph Community Branding, LLC, an imitative behind a movement called "Made with Uncommon Character."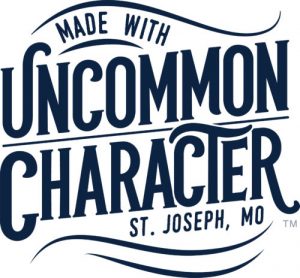 This new community brand has been in the making for over two years and is the passion project of several St. Joseph residents who source everything locally, from the creative teams to the execution of content and even merchandise.
The goal of this brand is to show the citizens of St. Joseph that there really is something special and uncommon about our city, which is a big job, especially considering the rich history, its strong entrepreneurial spirit and the unique neighborhoods that are around every corner.
At the center of the campaign is the goal to share characteristics, stories and places that make St. Joseph unique. Uncommon Character's website features several stories of people making a major impact, from restoring historical homes into a grand bed and breakfast to engineering electricity for under-developed countries. It also highlights the places that make St. Joseph a true star on the map. Looking for a local place to get a great cup of coffee? The website has a huge list of suggestions for drinks, family friendly events, shopping and much more.  People can also contribute to the movement by sharing stories of people and places they think are uncommon in the contact form on the website.
Whether people are St. Joseph residents or if they are on the fence about moving to the area, they will find everything they need.
SJC Marketing has really enjoyed being a part of the creative process, writing website content and seeing the power of social media. There are a lot of pieces to this puzzle but with consistency, creativity and a passion for sharing the same message, this campaign is really going to take off.
You can learn more about Uncommon Character by visiting their website or following them on Facebook, Twitter and Instagram.