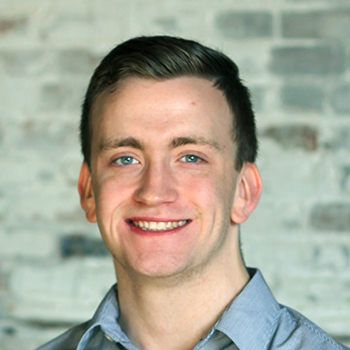 Have you ever had an intern in your office that you can't quite imagine losing back to the school year? Yeah, we feel you. We just had to say goodbye to three of ours. But there was one intern that we just couldn't part ways with. So, Dylan decided he wasn't sick of us and agreed to stay on in a part-time, but more permanent capacity. Wahoo!
Do you remember, Dylan? We introduced him in this blog about our interns. Despite his love for the Kansas Jayhawks, we decided to keep him, and now he'll be splitting his free time during his last semester of college between our St. Joseph and Kansas City offices.
Dylan has been supporting our Account Managers this summer by writing and engaging for some of our clients' social media platforms. His new role will be Account Coordinator, and he will continue to use his writing skills in addition to other research, engagement and campaign opportunities for our clients.
Dylan's humor comes out in a sly and subtle way, which is the main reason we asked him to join #TeamSJC. Just kidding … kind of. He is also incredibly smart, hard-working, a fast learner, professional and positive.
Dylan will be graduating with degrees in Marketing and Management from Missouri Western State University this December. He has always been an avid sports fan, so he has some aspirations to be in sports marketing. Dylan says, "being in charge of an organization's social media account would be fun (as long as it's the Chiefs, Royals or Jayhawks!)."
Dylan told us that his favorite thing about SJC Marketing is the people that he works with. "Everyone is so friendly and easy to talk to. I felt comfortable here almost right away as everyone welcomed me with open arms! Probably because they could see I was just as silly as them."
When asked what aspect of Dylan's work challenges him, he said, "getting to work with clients in different fields – I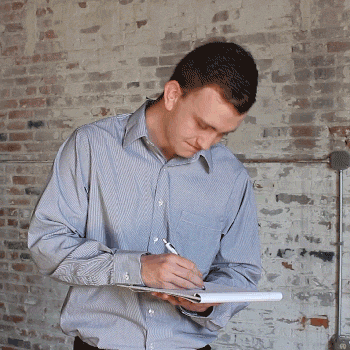 write social media posts for clients that provide financial services, some that work as non-profit organizations, along with other lines of work. It can be difficult to make sure I stick to the identity of the organization I am writing posts for, as some content will be more laid back and silly while others are more formal." But it's the challenge that keeps him excited to come back to work each day as he works to perfect each clients' tone and personality.
We couldn't end this blog post without filling you in on a few fun facts about Dylan Cutitta.
He used to make movies as a kid! They were mostly parodies of his own favorite movies and shows and his entire family would star in them. He wanted to be the next Steven Spielberg.
Dylan said he may regret sharing this, but he once dressed as Michael Jackson for his fifth-grade class' 80s Day. He dressed like him from his Beat It music video and even made sure to wear the one white glove. It won him the award for best costume – no big deal …
Along with aspirations to be a movie director one day, he also loved creative writing when he was younger. He has dozens and dozens of short stories he wrote from second through fourth grade with a bunch of crazy characters and storylines. He even had a couple short stories appear in his school district's Loadstar two years in a row, which featured the top pieces of writing from that school year Kindergarten through fifth grade.
Now that you know Dylan a little better, you may want to spy on a few of our other team members. Feel free to do so on our #TeamSJC page and be sure to contact us if you'd like to work with this talented bunch!