SJC BLOG
---
Lil' Susie's Round-Up: What Does it Take to Make Social Media Magic?
---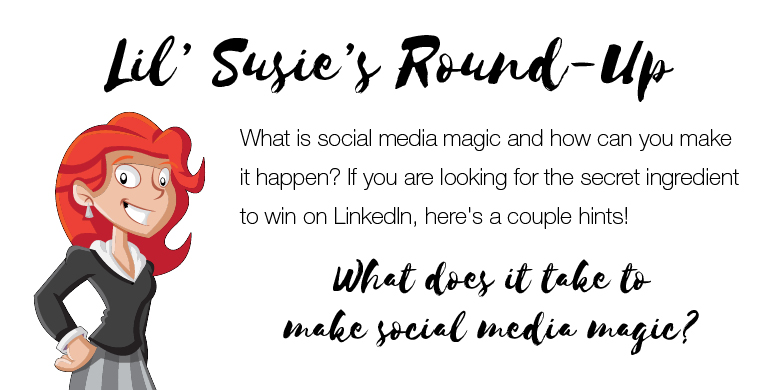 What is the magic ingredient for success on LinkedIn? Because social media is always changing, it's hard to predict what always works, but we have some advice for you that we know will work because we've tested it ourselves.
We give a lot of advice on our blog and it's always based on research and our knowledge of whatever topic we are covering. We like to share our expertise and we love it even more when we are speaking from experience.
Last month, one of the SJC team members posted an article she wrote on her LinkedIn profile and decided to include a couple hashtags in the caption about her article. What happened next is what we like to call "social media magic" in our business. For the first time in over four years of having a LinkedIn profile, SJC team member, Jennifer, had over 600 likes, 112 shares and reached thousands of people.
We consider this a huge success. Now, you have the opportunity to go viral on LinkedIn too, thanks to a new feature the platform is rolling out. LinkedIn knows that hashtags allow users to sort through relevant posts and categorize where their content best fits. This is the way you can help deliver your content to the correct target audience. If you want your content to reach business to business companies or content creators, tag your articles with topics like #B2B or #ContentMarketing.
There are a lot of changes that may be coming to LinkedIn, including hashtags, which could be required very soon, so if you aren't using them yet, at least do your research and get used to the idea so that you can be ready when the time comes. If you are committed to paying more attention to the platform, a good place to start is to make sure your profile and cover photos are telling a story. A clear, professional photo is key for your profile picture. A cover photo tells a story so include a visual that catches an eye and has a straight and to the point tagline or explanation of your industry.
To sum it up, do we think you should be on LinkedIn? Yes. Do we think there is major potential to reach your target audience? Yes! Will we follow you if you follow us, you bet! See you on LinkedIn.