SJC BLOG
---
Lil' Susie's Round-Up: Pinterest is Picking up Speed
---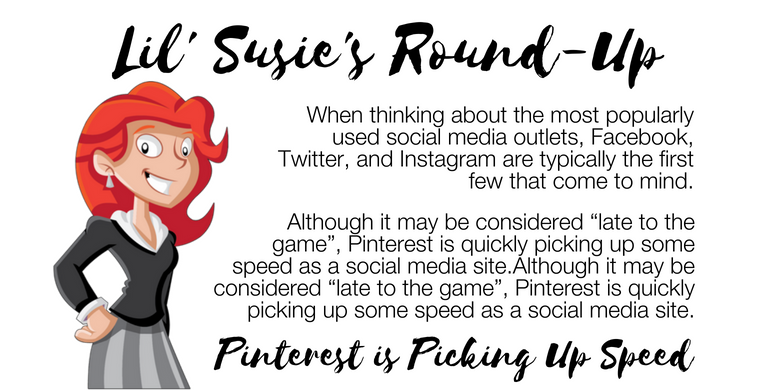 When thinking about the most popularly used social media outlets, Facebook, Twitter, and Instagram are typically the first few that come to mind. Although it may be considered "late to the game", Pinterest is quickly picking up some speed as a social media site.
New research shows that Pinterest is currently coming up on hitting 250 million active monthly users, which is a sizeable jump from the 200 million they reportedly had back in September 2017. The app also went from 150 million to 175 million in six months and it only took five months for them to make it to 200 million users.
Including the 50 million active monthly users they have added since September, this shows that Pinterest is adding, on average, roughly 25 million new users every four months. This would be considered a marginally faster growth rate than they have experienced in past years.
In comparison to other popular social networks, Pinterest has added more monthly active users in the past year than Twitter and Snapchat, who added 9 million and 25 million respectively. While their overall total of active users is still well behind social media giants Facebook, Instagram, and Twitter, it is still worth noting that Pinterest is quickly gaining momentum.
Statistics show that targeting shopping opportunities has helped Pinterest become a stronger platform for driving purchase intent. According to their data, Pinterest found that 90% of weekly users are on the app to make purchase decisions, and 78% say they consider the content they see from brands helpful to them.
Opportunities for advertisers to use this app as a platform to reach their target audience are rapidly growing. Want to find out how you can use social media to benefit your business? Contact out team at SJC Marketing and we will help you get started!