SJC BLOG
---
Li'l Susie's Round-Up: Get Ready to Reduce Your Cost Per Lead on LinkedIn
---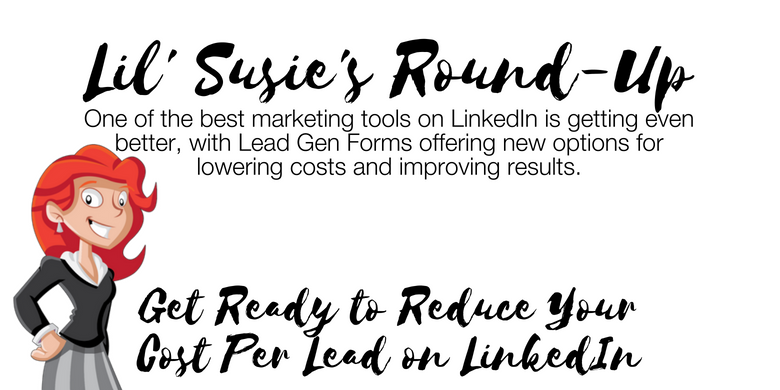 If you've been accessing LinkedIn's Lead Gen Forms since they were introduced last April, you know that the tool makes it more cost-effective to generate leads through the social media site. Given that LinkedIn has seen dramatic increases in mobile access to the feature, they've pushed more resources toward this tool to make it even better.
In the months since its release, users of Lead Gen Forms have reported a decrease in their cost per lead of around 20%, but you can expect that rate to get even better. There are three ways that Lead Gen Forms have been updated to improve your cost of generating leads:
Bid optimization: LinkedIn's bid optimization tools have been expanded to include Lead Gen Forms. This means that the platform will automatically identify those leads that are most likely to convert. Beta testing reveals that marketers see a 30% increase in lead form submissions and are able to reduce their cost per lead by 23%.
Auto-fill: LinkedIn is making Lead Gen Forms available on desktop, and while auto-fill feels a bit more critical when you're pounding teeny buttons on your phone, it's still convenient on the desktop.
Integration: LinkedIn is making Lead Gen Forms data easier to integrate with SalesForce Sales Cloud and Microsoft Dynamics 365. Microsoft owns LinkedIn, so expect to see its integration with Dynamics 365 to improve more over time.
Our team at SJC Marketing is working to keep you up to date on all the latest tools and features in social media. If you need assistance optimizing your social media strategy, or if you'd rather just turn it over to the experts, contact us today!