Creative Marketing Ideas for Making the Most of Instagram
When new features come out on social media, it's like any other technology: there are early adopters that jump in to try it, and there are others who hold back, waiting to see what all the fuss is about. If you fit into the first category, you're probably all over Instagram stories.
If you're more likely to fit the second profile, then it's time to admit it: Instagram stories is a great marketing tool, and you need to make the most of it. This is your guide to simple steps you can take to get started:
Determine how you'll handle privacy. For stories, you can choose who sees each of your stories, or you can handle all stories from the main Instagram settings. You can do this by accessing your Instagram profile on the settings wheel at the top right corner of your screen. Choose "Stories Settings" to adjust to your preferences.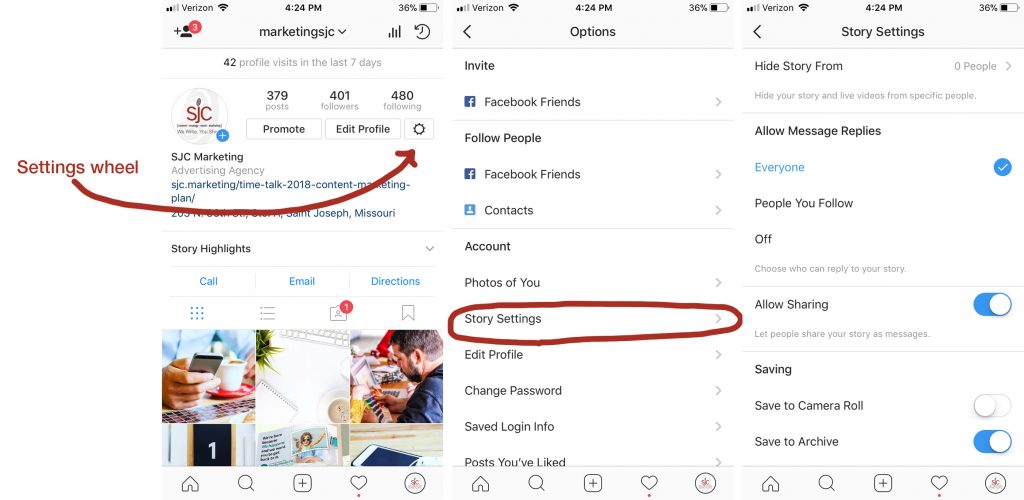 2. Create your first story. Start by tapping on the circled "+" sign on the top left of your screen. Now you can use the buttons at the bottom of your screen to adjust flash settings, flip the camera's perspective or push the center button to take a ten-second video. It's important to know that Instagram will post your story in portrait mode, even if you record in landscape. Once you're happy with your post, tap the checkmark at the bottom to add it to your story. You'll see a circle with your own picture at the top of your screen, so that it's convenient for you to add to your current story.
3. Monitor your Instagram stories analytics. Once you start having viewers, you'll see a number at the bottom of the screen for each portion of your story. Swipe up on the number, and you'll see more details, such as who viewed each part of your story. The analytics can help you refine that particular story and influence how you create stories in the future. Maybe you want to feature a particularly well-received video on your profile in order to get more people to view your story, or perhaps it's time to delete one that doesn't seem to be getting any love.
4. Keep an eye on your messages. If you allow your story viewers to send you a message, then you'll need to check your inbox. Particularly if you can receive messages from individuals that are not your followers, you won't receive a notification that there's a message waiting for you. It's important to respond to these messages; the whole point of Instagram stories is to engage with your target audience, so don't miss this opportunity have a connection.
Let's Get Creative
One of the reasons to use Instagram is to have a little fun and implement some creative marketing ideas into your social media strategy. Instagram stories is the perfect place to let your personality shine. You can show off your products, create a mood around your brand, and add some emoji in case the message isn't quite clear.
Decorate and go interactive: Tap the sticker icon at the top of your Instagram story to access the decorations. You can add stickers, doodles and text to your Instagram story and make it pop with color and personality. From funny captions to colorful doodles, Instagram gives you permission to fully express yourself. You can also include polls in your Instagram stories to encourage your followers to participate in the interactive nature of your stories. Also remember to include hashtags and locations on your posts so that your story is included in those collections.

Experiment: You can use different recording modes to spice up your Instagram story. Instead of a regular video, for instance, you can hold the button steadily to get up to a fifteen-second video. You can also use the Boomerang setting that lets you take a video that's a couple of seconds, but loops around again and again. Think fireworks or dance moves for a Boomerang-worthy video. Hands-free lets you video without holding the button down, which is a convenient feature.
Curate a story from existing photos: Your Instagram story doesn't have to be what's happening today. If you're creating a story that is a good fit for a photo you have on your camera roll, include it in your story.
Go live: Instagram allows you to go live during special events. Unlike Facebook, you can't go back and watch live video on Instagram again, lending an air of exclusivity to the live videos you release on Instagram. You can also add another person to your video for an interview or showcase a special speech or a grand opening.
Once you've got Instagram stories all figured out, it's likely that Instagram will be out with yet another cool new feature. If keeping up with social media trends keeps you from focusing on your business, maybe it's time to leave it to our team. SJC Marketing handles a wide range of social media management, from helping companies create a strategy to fully monitoring social media accounts on a daily basis. Make an appointment to learn more about the social media services we offer.