SJC BLOG
---
Lil' Susie's Round-Up: Facebook is Working on New Scoring Scale for Business Reviews
---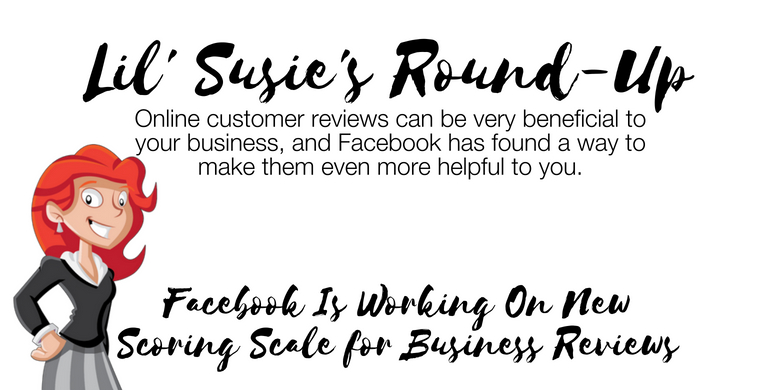 Online customer reviews can be very beneficial to your business, and Facebook has found a way to make them even more helpful to you. Currently, Facebook is working on a scoring system specifically for business pages that allows users to rate your business on a scale of one to 10 stars, and it takes more into account than just user feedback. It also gives you a chance to see the sample size that your rating comes from.
The new scoring scale is based on multiple ratings, reviews and recommendations made by users on Facebook. This allows users to find content relative to them, which could very well be the products or services provided by your business!
This scoring can also be used based on messages, user query response time and any other Facebook cues. This will make the rating system harder for people to take advantage of, like posting fake reviews in an effort to damage your brand name.
Facebook also gives a hint on how you can continue to improve your score: the more people you get to post about your business the better. Their hopes are to "move away from solely user-sourced data" and use a more precise tactic to improve relevance and stop users from tampering with posts.
What does this mean for your business going forward? Since Facebook is still in the developmental stages of this change, there are still some unanswered questions. We do know it will be key for your business to keep positive reviews coming in as regularly as possible. We very well may see business pages take a hit from Facebook for paying for ratings or having someone you know post five-star ratings.
These reviews on Facebook can be a great help to your business, and it is always wise to keep your social media pages as up-to-date as possible. Need help in this department? Contact our team at SJC Marketing today and let us help you with your marketing plan!