Reach Your Target Market at the Right Time, With the Right Message
Do you feel like you're investing in an array of marketing channels, yet still not reaching your target market or your business goals? These are common challenges that come with a multi-channel marketing strategy. Multi-channel strategies are often the result of adding each hot new marketing tool to an existing plan without thought to how the tools will work together to achieve your business goals. The result is a set of disconnected entities and poor ROI.
Your marketing strategy needs an integrated approach to effectively reach your target market. Cross-channel marketing is key to this. You may have heard this term tossed around in marketing circles, and, while complex in practice, it's pretty simple in conceptual form. Cross-channel marketing is a holistic approach to reaching your customers. Take a look at each:
Multi-channel marketing is a focused approach in making contact with your potential customers through multiple channels. This means you're not just using direct mail or social media, but you're using a variety of channels to reach out to your target audience multiple times.

Cross-channel marketing takes multi-channel marketing a step further to create a cohesive, integrated strategy that directs all marketing as part of a bigger set of business goals. While using a consistent voice, different messages are strung together across a variety of channels to create an experience for the target market that ultimately leads to a conversion. It focuses on engaging target audience members with the right message through the right channel at the right time.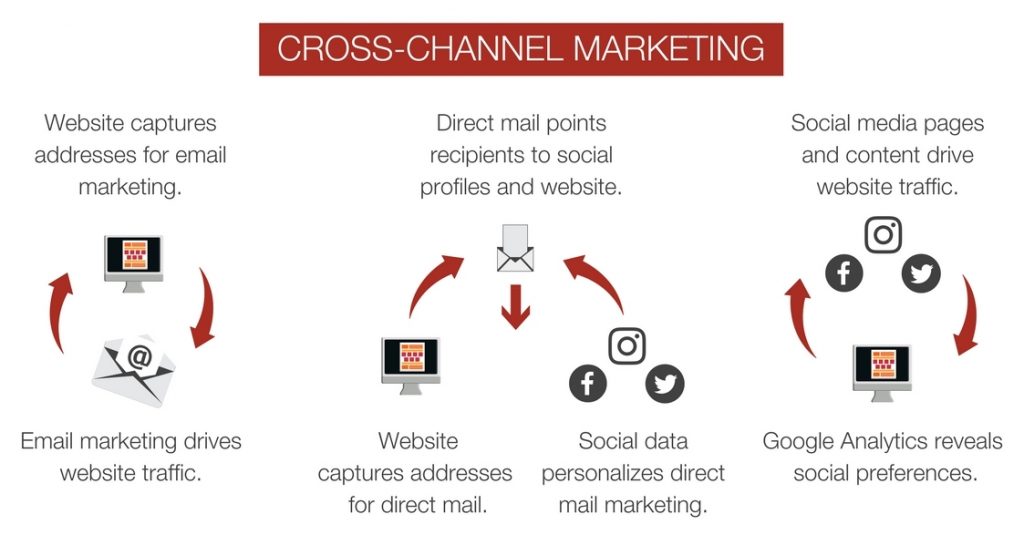 Step-by-Step: Integrating Cross-Channel Marketing
Creating a cross-channel marketing strategy takes some time and resources, but it can make a significant difference in the effectiveness of your marketing efforts. Work through the following steps, and then expect to keep working through them, again and again, as you learn what works best for your brand and you continue refining your approach.
Determine your goals. You need a set of measurable goals before jumping into a cross-channel marketing strategy. Your end-goal is to increase the number of customers, your sales volume, revenue and profits, but what behaviors among your target market will lead to these results? You may want to consider blending a few different metrics that balance one another such as an increase in email newsletter subscriptions, engagement on your Facebook Live video posts or the number of visitors to your website as a result of a direct-mail promotion.
Get to know your target market. There are a lot of tools available for data analytics, with social media sites providing detailed information about users' job titles, income levels, whether a person has kids, what kinds of content they consume and what times of day they tend to hang out on social media. It's not just social media, either. You can find out what kinds of subject lines on your emails tend to lead to a visit to your website, or learn that women are more likely to respond to a direct mail postcard than men. Use this information to learn who makes up your target market, so that you can craft a message directly to a few distinct buyer personas.
Understand the buying cycle. Spend some time getting familiar with the path that your customers take before making a purchase. It's critical to understand the average number of times a visitor may come to your website to browse before making a purchase for instance, so that you're not providing content that's appropriate for making a final decision if they're still in the browsing stage. It's a critical step in helping you provide the right message at the right time.
Learn how your target market uses various marketing channels. Not every marketing channel is going to be the right fit for every campaign and you'll have varying levels of engagement with the channels you utilize. You'll need to do some research to find out which channels you should prioritize and find out how your potential customers spend their time on that channel.
Craft your messages and create content. This is a big topic all in itself, but you'll create content that's designed to be appropriate for specific moments in the buy cycle and you'll use that content to engage your customers. Whether it's live video, blog posts or an email newsletter, each message will be tied to your bigger strategy and create a cohesive experience for your customer.
Track and evaluate. You'll use analytics to evaluate how your cross-channel marketing strategy is faring. It will become apparent which social media channels are most effective in your strategy and which need some tweaking. For instance, you may also need to adjust your metrics as you find out that a follower on Instagram doesn't have as straight a path to a conversion as you'd originally believed.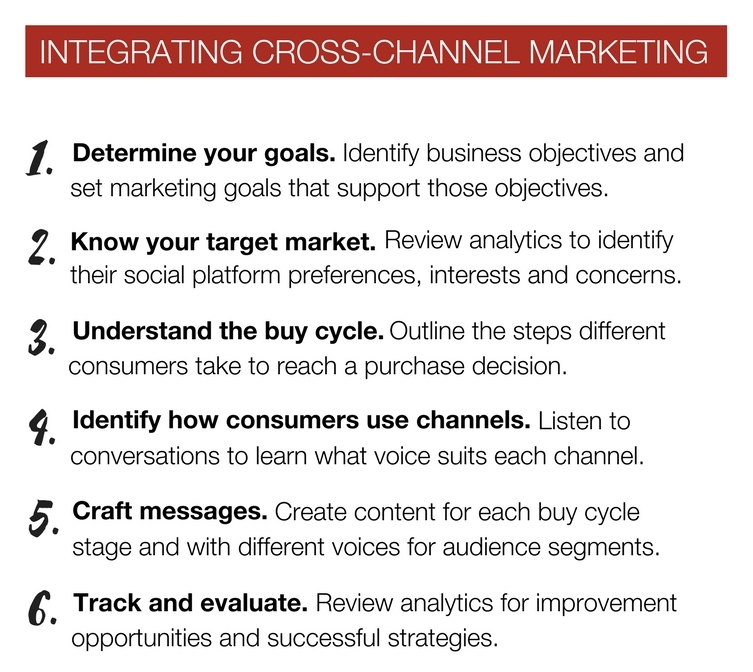 Cross-channel marketing takes planning, because it's a complex process with a lot of moving parts. It's an effective way to rein in your marketing efforts and create a cohesive approach to moving members of your target audience into your customer list.
If you're looking for a team that can put cross-channel marketing in motion for your company, turn to our team at SJC Marketing. We love developing marketing strategies, and the opportunity to get some ideas going for your business excites us!